Elite Screens sets scene at Californian landmark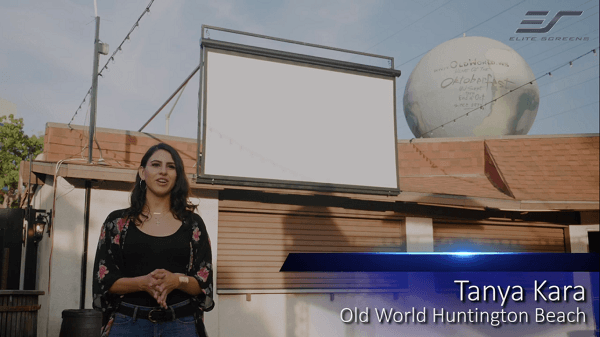 A Southern California landmark has installed an Elite Screens Yard Master Electric outdoor motorised projection screen as well as the Yard Master Plus portable free-standing screen for special occasions.
The Old World Village is designed in the style of an alpine village.
Old World's social media manager Tanya Kara explained how the screens are used for various events, weddings and festivals.
She says: "We have two new Elite Screens. One is here permanently (Yard Master Electric) outside so that we can use it outside when we have big events on our patio. We also have another screen (Yard Master 2 Portable) that can be tucked away so we can bring it out whenever we have events."
She explains how special pictures, videos and memories are put up on the big screen for everyone's benefit. The outdoor screen, the OMS120H-ELECTRIC, is a 120" HDTV formatted and (ingress protection) IP33 certified for outdoor rain/water protection.
"It's great for the dachshund races and Oktoberfest when we want to project something really big outside when we have tons of people here at our events."
Tanya points out that the Yard Master Electric is weatherproof meaning it can be closed up outside with no further action necessary.
The free-standing screen is brought out to provide an additional big screen video source for larger events.
Tanya adds that the Yard Master foldable projection screen can be used during events, then folder up and put away.
"It's super easy, the quality of the screen is great. It gives off a clean, clear picture. The quality and look of the screens are awesome; we're so happy with them."