ELAN extender provides ultimate flexibility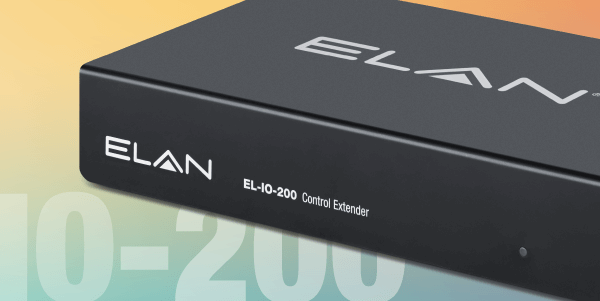 ELAN's new EL-IO-200 Control Extender is a cost-effective solution that allows the extension of control to additional rooms, providing great control flexibility.
The extender is easy to install and configure as the configurator scans the network and automatically discovers available devices to connect with. Once installed, the available connections are populated seamlessly and available to be configured for any device in the system.
It offers a variety of options for control, including RS-232, RS-485, IR, Relays, and Signal Inputs. It also has 12V to support dual IR emitters, potentially doubling the number of IR devices that can be controlled.
The extender can also detect a contact closure or voltage input and use these to trigger any action within the ELAN ecosystem.
It can connect using WiFi or wired Ethernet with PoE, providing more flexible setup option.
ELAN offers dealer support in the shape of product training and certification with hands-on and virtual training options, as well as an extensive online content library.
ADVERTISEMENT

ADVERTISEMENT
ADVERTISEMENT

ADVERTISEMENT