DigitalProjection International displays products at InfoComm 2018
DigitalProjection International (DPI) had a number of products on display at InfoComm 2018, including the Vision 11000 4K-UHD, the HIGHlite Laser 4K 12000, the Insight Dual Laser 4K, the Insight Laser 8K, a new Radiance LED video wall system and two new ultra-high lumen projectors.
The E-Vision 11000 4K-UHD adds a brighter 4K solution to DPI's laser driven, single-chip DLP line of projectors, which were developed with 'Fit and Forget' directives to ensure they need only minimal maintenance throughout the lifetime of the displays.
Delivering 10,500 lumens from a stable, solid-state light source capable of producing 20,000 hours of illumination, the E-Vision 11000 4K-UHD combines DPI's bright, long-life laser illumination systems with a wide array of lenses.
It also includes inputs for DisplayPort 1.2, HDBaseT, HDMI 2.0 and HDMI 1.4b for Frame Sequential and Dual Pipe 3D.
In addition, DPI announced it has added Color Boost+ technology to two new Vision series models, the E-Vision 13000 WU and M-Vision 21000 WU. This adds direct-red lasers to the existing blue lasers, resulting in higher brightness and improved colour performance.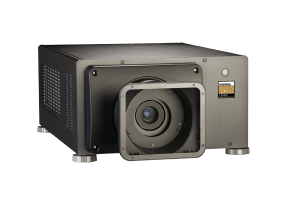 Also at InfoComm, DPI introduced the HIGHlite Laser 4K 12000 digital projector featuring scaling with aspect ratio management for a wide range of sources.
It has 2D graphics standards up to 4K-UHD 3840 X 2160 resolution at 6OHz via HDMI 2.0, HDBasT (4:2:0) and DisplayPort inputs, as well as built-in support for reception of uncompressed HD video over standard CAT5e/6 LAN cable.
Two sources can be displayed simultaneously using 2D inputs, either picture in picture (PIP) or side by side (SBS), with original aspect ratios maintained. There are also four colour modes available and powerful, seven point colour correction for accurate colour matching with presets.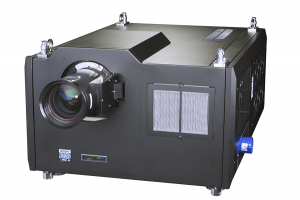 The Insight Dual Laser 4K is ideal for professional, simulation, visualisation, signage and large-screen applications, with sealed optics, a long life light source and Dual Flash Processing for 3D sources.
It also has up to 12 bits colour processing, individual R, G and B lift gain and black and white level adjustment via brightness and contrast control.
DPI collaborated with Delta Electronics to develop its upgraded model, the Insight Laser 8K projector that produces precise 33 million pixel resolution with deep black levels and a broad colour gamut.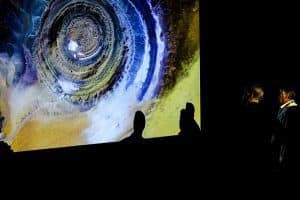 At InfoComm 2018, DPI partnered with ASTRO & Analog Way to demonstrate the capabilities of this projector, including a brief review of the advanced technologies that are employed.
The company also introduced a new 1.2mm pixel pitch and 3D capable Radiance LED video wall system. This announcement means DPI's Radiance line-up now includes direct view LED panels providing 1.2mm, 1.5mm, 1.9mm, 2.5mm and 4mm pixel-pitch resolutions.
Radiance LED's mechanical configurations are virtually limitless thanks to the platform's modular design. The panels can be employed to create native 16:9 aspect ratio displays, as well as visual arrays of any scale, shape and resolution. With the introduction of the 1.2mm panel, Radiance LED systems can now produce a full HD 1080p display starting at just 110" (diagonal) and a 4K-UHD display starting at 220".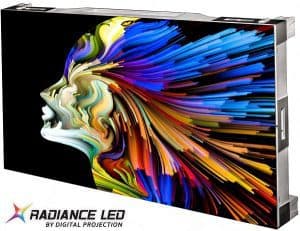 Lastly, DPI introduced two new ultra-high lumen projectors to its high-performance three chip LASER series. The TITAN LASER 37000 WU and TITAN LASER 33000 4K-UHD projectors produce 37,000 and 33,000 lumens respectively, with no lamps to replace or expensive maintenance costs to endure.
To achieve the ultra-high brightness, DPI paired its third generation laser illumination systems with Texas Instrument's three-chip DLP technology.
The new projectors are compatible with the same TITAN optics that have supported all of DPI's prior, lamp-based TITAN projectors so owners of TITAN lamp-based projectors upgrading to the new TITAN LASER series only need to invest in the new projector chassis.