Datapath's Aligo delivers 'game changing' distribution of pristine quality video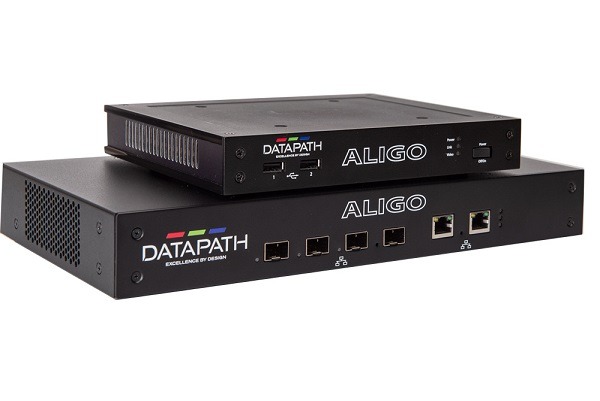 Datapath has launched Aligo, a world-first AVoIP technology that allows for different video resolutions to be shared across different network bandwidths simultaneously.
Aligo works seamlessly with Datapath's latest Aetria solution, giving integrators a single interface for versatile display layouts and content management in control rooms. Aligo delivers levels of technology into video processing not previously seen – allowing users to connect and share video sources in any resolution without affecting the original quality.
It also gives users pristine quality 4K content across a 10G network and compressed streams on 1G infrastructure at the same time, delivering unprecedented quality and flexibility in content distribution with sub-millisecond latency. The current product range includes the Aligo QTX100 quad 4K transmitter and the Aligo RX100, a single 4K receiver with quad HD outputs.
"With Aligo underpinning control room video, users can access media at a resolution and quality that best suits their application," Datapath director of R&D John Storey explains.
"A pristine 4K source can be streamed to 4K and HD endpoints without compromising the quality of either, while simultaneously being made available outside of the high-speed AV network at bitrates that allow wider distribution."
He adds that whatever the resolution, Aligo takes care of it.
"For sharing video on internal and external networks, this will become a game changer to control room management," he says.
"Control room environments are becoming more complex, with clarity of shared information now a primary requirement for critical applications. Today's solutions need to balance managing the ever-increasing quantity of sources, content and data, while ensuring total security, reliability and usability for the user. The possibilities of sharing premium quality content simultaneously, both internally and externally, opens up a wealth of possibilities."