Dante releases the EasyIP TableMIC D mic for 360° coverage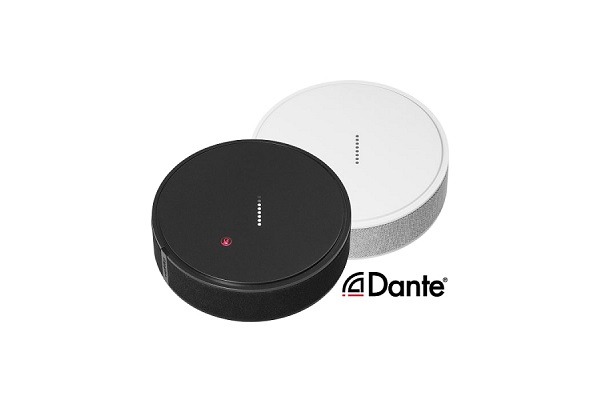 Dante has released the EasyIP TableMIC D microphone which gives users 360° of quality Dante networked audio.
Ideal for videoconferencing rooms, the EasyIP TableMIC D reduces distracting noises that arise in the conference room while a solid metal base and engineered feet diminish table vibration noise that can affect other table microphones.
It also comes with a capacitive touch control surface for silent button operation and a VU meter. This makes it easier for integrators to enable and disable button functionality during configuration and further simplifies the end user's videoconferencing experience.
With 360° coverage from three unidirectional condenser microphone elements, a single EasyIP TableMIC D microphone provides excellent coverage for a small meeting room. Pair up to four microphone pods to the AV Bridge 2×1 or EasyIP Mixer to ensure coverage in larger meeting rooms.
Each of the three unidirectional cardioid microphone elements in the microphone is equipped with integrated echo cancellation and Digital Signal Processing (DSP), including equalisation, automatic gain control (AGC) and adaptive noise filtering. The DSP in a companion product such as the Vaddio AV Bridge 2×1 or EasyIP Mixer provides an AEC reference from the far end and applies it to individual mic elements, so conference calls are crystal-clear on both ends of the conversation.
By connecting a standard Cat-5 cable between the EasyIP TableMIC D microphone and the preferred PoE network switch, power, control and audio are all carried over the single cable. The EasyIP TableMIC D supports cable lengths of up to 100m between the microphone and PoE network switch port. Pairing with Vaddio equipment can be done through our free Vaddio Deployment Tool and audio flows are managed through Audinate's Dante Controller application.