Crestron releases DM NAX amplifier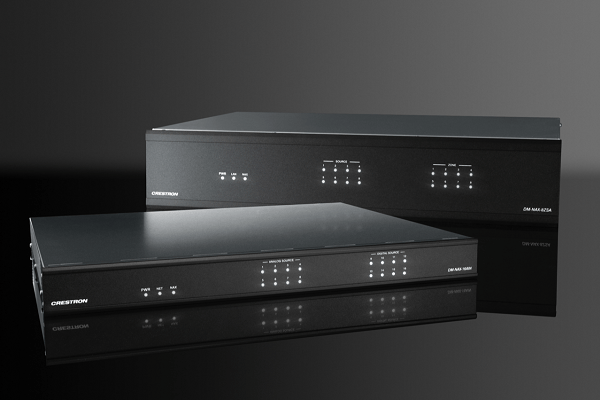 Crestron has released the Crestron DM NAX distributed audio-over-IP (AoIP) amplifier. It's a highly anticipated AoIP solution that provides all the connectivity and audio functionality integrators need to delight residential customers.
It gives integrators unmatched flexibility, scalability and interoperability of DM NAX, integrators can deliver complete control of the audio environment to users, allowing them to toggle between TV audio, streaming music, podcasts, alarms, doorbells and even paging and intercom usage to any speaker in the house.
"DM NAX takes whole-home audio to a new level by removing the scale and functionality constraints that used to bog down usability," Crestron executive vice president, residential John Clancy says.
"DM NAX is a solution that is easy for dealers to configure and provides effortless audio distribution that a homeowner can operate from their phone, touchscreen, remote or tablet."
The Crestron DM NVX integrates with legacy Crestron systems and gives users extraordinary flexibility within its form factor, allowing for audio from any input to be sent to any output.
Far surpassing the scalability of any existing amplifiers on the market, DM NAX provides the ability to scale to 256 stereo zones. DM NAX products are interoperable with AES67 and Dante audio networking, use hardwired connections and require no custom network architecture or hardware. This sweeping interoperability and elegantly simple design allow integrators to use DM NAX to specify an entire house's worth of audio systems with a single device.
Ease of install and ease of use is optimised with DM NAX, as it has been thoughtfully designed to enable dealers to easily configure systems with baked-in features that add further value to projects.
Homeowners will be able to control their audio with the Crestron Home or Crestron One App and will be able to seamlessly add streaming services as the list of native integrations expands. SiriusXM, Apple AirPlay 2, Spotify Connect, Amazon Connected Speakers, and iHeartRadio services are expected to be available soon and Amazon Music, Deezer, Quboz and TIDAL services are slated for later in 2021.