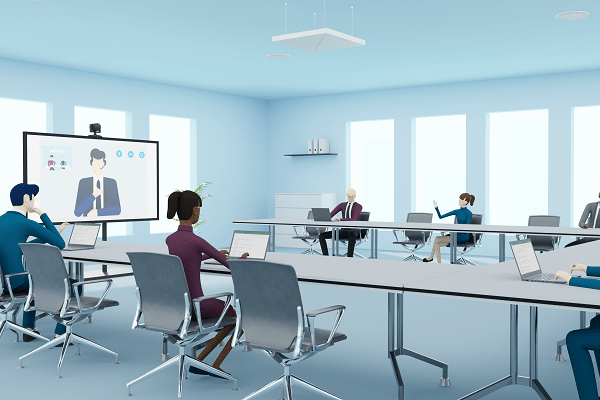 Sean Carroll finds out what TeamConnect Ceiling 2 does and how it enhances collaboration, including how its latest function, TruVoicelift, can help.
Most of us are working or studying from home or in some kind of hybrid solution at the moment. The pandemic has forced us to turn our houses into offices, our living rooms into lecture halls and video conferences into water cooler conversations.
Instead of driving down the road and meeting a client or attending a seminar with other students, we're now sharing small squares on a Zoom call or speaking through a conferencing product in the middle of the room.
But it's looking like this kind of setting is here to stay following the pandemic, with hybrid meetings and lectures on the rise everywhere. Whether it be at home, on site or a mix of both, collaborative AV solutions are essential to the modern workspace or university.
One such conferencing solution is the Sennheiser TeamConnect Ceiling 2 (TCC2), an audio-conferencing microphone array that comes with patented automatic dynamic beamforming technology.
As a sleek black or white square attached to or flush mount with the ceiling, the TCC2 delivers a seamless collaboration experience for on-site and remote participants alike.
Being compatible with Microsoft Teams and Zoom, meetings are made much easier without thinking about it.
The microphone solution has already separated itself from the rest with market-leading features like adaptive beamforming which lets you move about the room freely, an open media control protocol (API) for easy integration with other conferencing gear, such as amplifiers and loudspeakers, flexible connection via analogue or digital Dante outputs and IT-friendly configuration and monitoring via the Sennheiser Control Cockpit software.
But now, the TCC2 also boasts TruVoicelift technology, an addition that helps on-site meeting participants to adhere to the necessary social distancing while still being able to understand what is being said at the far end of the room with ease and clarity. The TCC2 adaptive beamforming microphone picks up the speaker in a crystal-clear manner, allowing to prioritise an area in the room for uninterrupted speech-pick up. It also lets users set exclusion zones to mitigate noise sources such as air conditioning systems, decreasing the amount of overall background noise.
"TruVoicelift enables the TCC2 to be used for in-room amplification of meeting participants' voices. Voice reinforcement within a room requires a set of algorithms in order to prevent unwanted feedback loops," Sennheiser business communication portfolio manager Jens Werner says.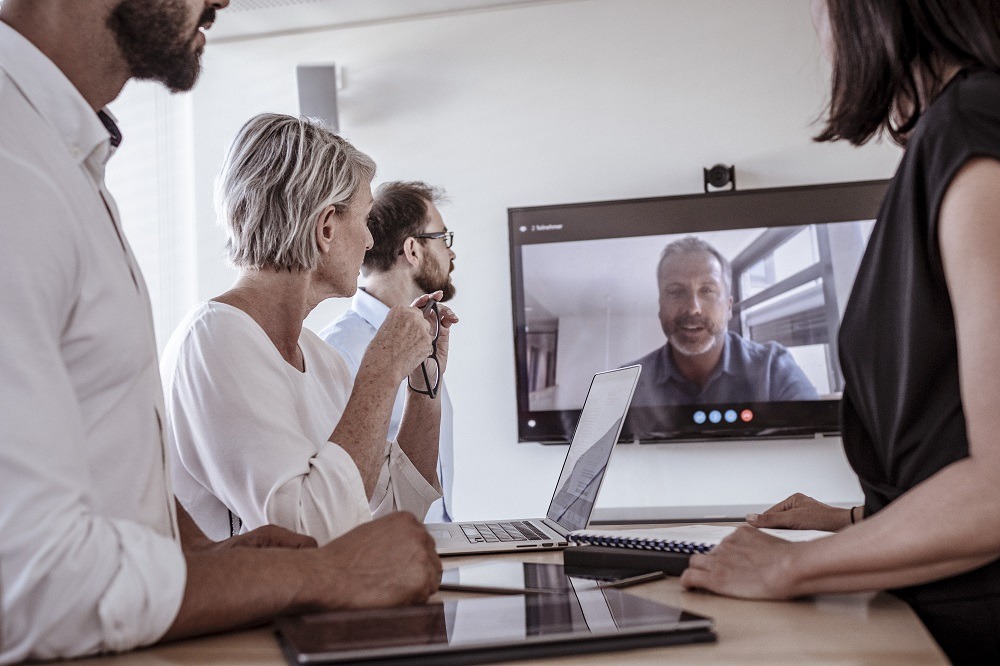 "Our TruVoicelift feature set uses a combination of frequency shifting and automatic muting in case of any feedback detection. This special combination allows smooth speech reinforcement and enables the sound system to achieve a higher gain-before-feedback compared to other microphone solutions for voice-lift application."
TruVoicelift is a free feature update for the TCC2 and is available now.
"Our customers love the new possibilities that TeamConnect Ceiling 2 offers them thanks to the free TruVoicelift update," Jens adds.
"This means that they now have two solutions in one: excellent audio for hybrid meetings with on-site and remote participants, and a refined voice-lift technology for in-room attendees of a conference, a lecture etc."
He builds on that point by saying that several TCC2 customers have installed the solution for dedicated use case of in-room amplification with TruVoicelift helping them to perfectly make intelligent contributions even when audience members are placed at large distances.
"TCC2 achieves sufficient gain-before-feedback to enable perfectly clear audio for lectures and meetings."
Its automatic adaptive beamforming technology follows the active speaker's voice, allowing them to speak naturally whether they are sitting, standing, or moving around. Meetings and classes become totally flexible – it's no problem to have more speakers than planned, and interaction in the room is lifelike.
Making meetings and classrooms as lifelike as possible helps with both educational and productivity as I'm sure we've all had our fair share of meeting hiccups this past year and a half.
Jens says that moving forward, Sennheiser is working with external partners to offer bundles and certifications that are true problem-solvers for corporate and higher education markets: "TCC2 with its manufacturer-agnostic system architecture is a great addition to many conferencing solutions in the market."
—
Follow this link to get in contact to experience a live audio demo of the TeamConnect Ceiling 2.
Select the partner with whom you would like to conduct the TeamConnect Ceiling 2 live demo. Simply choose your contact in the form, make an appointment and enjoy great audio quality.