Certify Extron XTP DTP 24 cable installations with MSolutions' MS-TestPro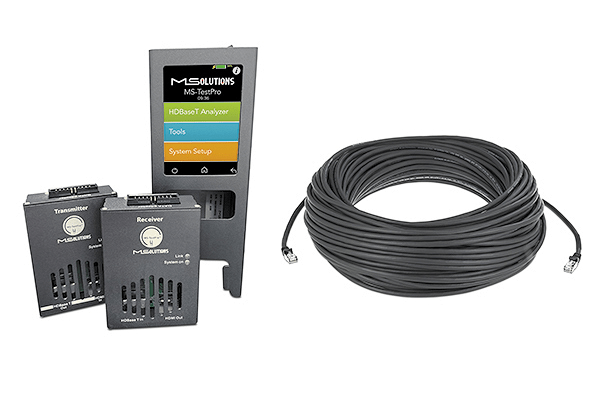 Extron has announced that its XTP DTP 24 shielded twisted pair cable is fully compatible with the award-winning MS-TestPro HDBaseT tester by MSolutions.
The handheld test device provides the data needed to verify signal integrity and stability of HDBaseT installations.
By selecting the Extron cable profile, all parameters necessary to certify the link quality and status are compiled and summarised for immediate use and given to users. This report can be saved as a PDF file and is included with system commissioning documentation.
"The ability to test XTP DTP 24 cable installations with the MS-TestPro is an exciting development," Extron vice president of worldwide sales and marketing Casey Hall says.
"Its convenient certification report provides the details needed to perform system commissioning while ensuring your cable infrastructure delivers professional results."
MSolutions chief executive Eliran Toren agrees with Casey, saying that integrators have long lacked cost-effective tools build with the AV industry in mind.
"As we bring our message to more AV integrators worldwide, we are strategically partnering with industry leaders such as Extron that value innovation and interoperability," he says.
"Using our MS-TestPro device, Extron installers can rest assured that they can test and certify cabling infrastructure with speed and accuracy, and leave job sites with peace of mind that their installed systems will function as advertised."