CEDIA launches Propel to accelerate growth and business opportunities for members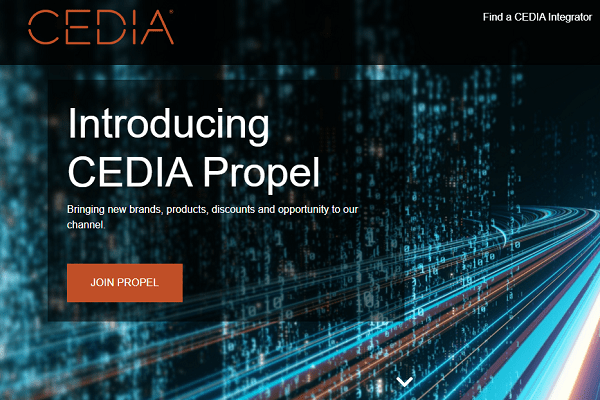 CEDIA has announced the launch of CEDIA Propel, an affinity program which is designed to connect members to new brands and products in emerging categories and help members find new and existing business opportunities.
Initial brands at program launch include leading solutions in the IoT and health and wellness categories: Amazon, Ring, Bryte Restorative Beds and Immersive Gym. CEDIA members will receive preferential pricing and product training across all of the Propel brands.
The roster of brands participating in Propel will grow over time, with the focus on positioning new and innovative products for the custom integration marketplace, and driving adoption with compelling incentives.
"Since we rolled out our CEDIASTRONG campaign, which we launched in response to the COVID-19 pandemic, we've been interacting with our integrator members at a whole new level. A recent survey found that 47% of our members are seeking new products and services to add to their portfolios to bolster revenue potential, but more than 50% were struggling to make those connections and negotiate new deals," CEDIA SVP member success and sales Giles Sutton says.
"We prioritized creating a business affinity program that will connect manufacturer members, as well as new brands, with our CEDIA integrator members, aiming to raise the tide across the industry as a whole. When Propel is coupled with CEDIA's vast education and workforce development initiatives, we see significant economic opportunities that can impact the entire channel."
Tapping into increased demand for residential technology to help homeowners live, work, play and stay safe and healthy, the Propel program offers a broad array of new opportunities for CEDIA integrators. In the coming weeks, CEDIA will be showcasing each brand individually via webinars to dive deeper into their solutions and how best to market and sell them.
"Propel is the right program at the right time for our industry. At cyberManor, we know we need to think beyond core applications like AV, lighting and security to remain competitive. Propel will provide new vendor relationships and expertise in emerging categories. These are the kind of relationships that allow us to be whole home integrators, anticipating and fulfilling all of our clients' technology needs," cyberManor founder and president Gordon van Zuiden says.
Participation in the Propel program is open to all CEDIA members. Companies interested in learning how to participate in the program should reach out to the CEDIA membership team at member@cedia.org. Visit the CEDIA website to register at www.cedia.net/propel.