CEDIA APAC Awards 2020 – Best Integrated Home Level III ($350,000 to $500,000) – Len Wallis Audio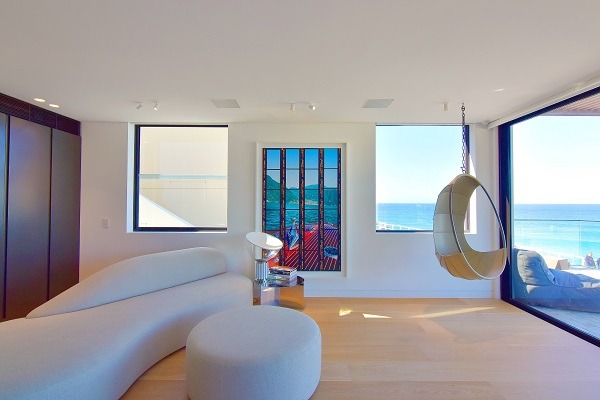 This seaside beauty is an architectural marvel, and Len Wallis had to respect that look.
The firm also had to anticipate the client's wishes, since the homeowner had little time for consultations. Other challenges included the fact that the customer was a technophobe, so controls had to be incredibly intuitive, a robust – and highly secure – network was needed for those times when the home doubled as an office. Also, the client spends a lot of time out of the country and requested that the system should be able to be used remotely — and simple to understand by the property management team.
The Len Wallis team notes that, "A cutting-edge Savant and Meridian Audio smart home was designed and delivered, integrating all electrical sub-systems to ensure the simplicity of control through a true single app solution. Nine audio zones are included, five of which cater for 4K distributed video. Including a near-reference immersive cinema space. Lighting control, shade control, security, CCTV, HVAC, access control, and pool control are all integrated within the Savant Pro app."
There's a wide array of automated scenes, for example: "Wake Up — This scene slowly ramps light levels in the bedrooms from zero to 90% over the course of 30 minutes every weekday at 6:00 am. The motorised blinds all open at 6:40 am. It is designed to wake the occupants gently. Wi-Fi Shutdown: The POE+ network ports which power the distributed WAP's are scheduled to turn off at 11:00 pm every evening, turning back on at 5:00 am. This is designed to limit exposure to any Wi-Fi radiation while the clients are sleeping."
EQUIPMENT LIST
Apple
Avation
Axis
Bowers & Wilkins
Clipsal
Coolmaster
Eaton
Foxtel
Inakustik
Lutron
Luxul
Marantz
Meridian
Middle Atlantic
Ness
Netgear
Qnap
Ruckus
Savant
Seagate
Severtson
Sony
Sunbrite
Vogels