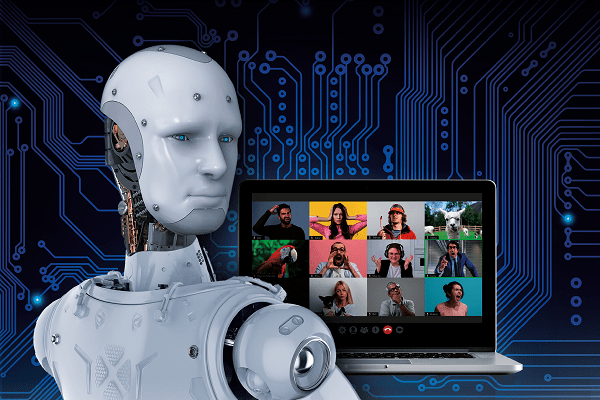 By all accounts, 2020 was being touted as a big year for unified communications technology. But no-one foresaw just how true that statement would be. Anna Hayes explores developments in the area, particularly in the area of AI.
The future is accelerating: that's the general consensus of commentators in the AV and, in particular, the unified communication and collaboration (UCC) industry.
Video conferencing solutions have been given a serious workout over the last six months but, as was stressed at InfoComm 2020 Connected (itself an online event) during a discussion on this very topic, there is a big difference between video conferencing and UCC.
And it is that differentiation which is and will continue to drive development in the UCC area, particularly with the incorporation of artificial intelligence capabilities, whether that will be for an
in-house or a distributed workforce, in the future.
Other factors, such as a seeming push for touchless technology, will drive development on the control side of things and may open the way for smoother incorporation of digital assistants into
systems that had, traditionally, been sceptical of this move.
A golden age
Ingram Micro's senior category strategy consultant for UCC Chad Simon believes we are entering a 'golden age' for UCC with some of the industry's brightest minds focused on improving the user
experience and some of the highest adoption rates ever seen. In addition, the barrier to entry is being lowered, with many enterprise grade technologies becoming available to smaller markets.
"The biggest mission is to democratise the industry and shrink the barrier to entry for the smaller entities out there. It is also the biggest opportunity for improvement in the industry today."
Leaving aside its role in UCC, Chad believes that AI already plays an integral role in our day-to-day endeavours, so much so that most people don't really notice it at all.
"When something becomes ubiquitous in society, it is amazing how much the mechanisms behind the scene become marginalised. The situation is no different with AI in UCC," he says, pointing out that asking Google or Alexa to switch on your music have been commonplace in homes and businesses across the globe.
AI, he points out, drives the speech recognition and the subsequent activity.
"This is where people forget or maybe misinterpret the U in UCC. Everybody knows it stands for Unified, but what exactly does it unify? To me, the U unifies many disparate technologies through communications. So, AI plays an integral role that has a profound effect on the experience."
And that's the big buzzword when it comes to most AV tech but particularly in the UCC area – the user experience.
According to Jabra ANZ managing director David Piggott, many UC deployments fail because the solution does not meet user needs in terms of functionality or user experience quality. In many cases, businesses who are trying to enhance digital customer experiences with big data insights are unaware that they can do the same with their collaboration spaces.
"By defining profiles for each type of user, describing what they do and what their UC requirements are, businesses can determine the amount of time savings, productivity gains, and efficiencies gained on each user profile."
The subsequent data can reveal new insights and change the way an organisation does things.
"Outlining these strategic UC objectives will highlight the required UC solution and ensure businesses aren't wasting budget and resources on inadequate technology," David adds.
Organisations, he says, are opting for technology that enhances the virtual experience, adding that UC technology is vital in facilitating the new mobile, flexible workplace.
The four horsemen of AI
For Holger Stoltz, senior director of technical sales and marketing at Yamaha Unified Communications, he sees four areas within UCC where AI can change the way things work – audio, video,
building maintenance/planning, and virtual assistant compatibility.
In terms of audio, he says that using AI allows you to identify noises much easier and more quickly.
"It's important because we don't want to react to somebody hitting their keyboard, we want to react to somebody speaking. We call that human-voice activity detection so our products actually detect when a voice is active."
The second area of interest for Yamaha UC relates to location of sound which is a rapidly improving area. Using amplitude, echo around the microphone and other aspects helps the AI algorithms to predict the distance of the speaker from the microphone. This allows it to disregard background noise or disruption.
In terms of video, AI focuses on where the speaker is in the picture.
"AI actually helps to identify how many people are there, where are they in the room, should I auto zoom, who's speaking right now, is there lip movement, and they can actually react to that and focus on the relevant person."
With 180 degree cameras, he points out, not only can you see everyone in the room, but it can also tie into the area of building maintenance whereby the operating camera could alert building managers to issues in the room.
"You can do that with AI as it will automatically detect what's going on in the room and if it doesn't fit with what's expected."
One company that offers a 180-degree camera in its flagship Panacast model is Jabra. David says that AI technology has seen cameras begin to operate as sensors.
"When AI algorithms are applied to video streams coming from cameras, the subsequent data lakes offer actionable insights for businesses; for example, data around productivity, call quality and
employee message retention."
In the same vein, AI can also help with scheduling and, in some cases, make suggestions to meeting organisers to use smaller or more suitable rooms, based on the number of people it counts in the room, the regularity of this same meeting, etc.
"There is cost involved in all of this. You want to find out how often rooms are being used, how many people are in it, is it being used efficiently and, if not, let's change and reduce the number of rooms or the size of the rooms and save money," says Holger.
Finally, Holger sees digital assistants coming more to the forefront in UCC operations, particularly in a post-COVID world.
At the moment, transcription of meetings is where it is being used most and these systems are constantly improving.
"Right now, we are having a meeting and if we had an assistant if would, if it's a bad one, say Speaker 1 and Speaker 2. A better one would recognise the person who is using the system all the time and use their name."
David adds that Jabra sees a big opportunity in the area of speech analytics, particularly in contact centres where each call is critical.
"With AI, every call can be analysed to highlight call dynamics and improve the call experience."
He cites the ability to analyse a caller's tone to determine whether they are having a good experience, whether the agent is having a good experience and if that translates in tone, and if the customer feels understood.
"With careful tone analysis, AI can replicate a supervisor listening into every call, creating more opportunity and scalability," he says.
Better video, clearer audio, smarter systems: it all sounds like a winner, so what's the catch?
Processing power
"AI requires processing power – that is the biggest hurdle it has. You can buy a video camera for US$130 and it will be good enough for your home office. If you buy one with AI, it's probably going to be around $800 and that has to do with the processing power required to run the algorithm," says Holger.
Processing power means cost and, until quite recently, there was not a lot to shout about in terms of AI in these devices, even the ones that had it. Holger says there was an element of companies
saying they had it, but quietly, because it wasn't quite to a level that people would expect just yet.
Networks are key in the deployment of AI-enabled technology, adds David.
"Network factors like LAN and WAN capacity still impact UC technology's ability to operate effectively. Organisations must be strategic with UC technology adoption to deliver a holistic UC and collaboration environment."
AI or smart programming?
For some, the definition of AI is being loosely afforded.
Jands' technology lead Jeff MacKenzie feels that the term has become a marketing buzzword where something claims to have AI technology but it is, he feels, a stretch.
"I see it a lot and you go 'really? That's just a movement sensor that detects people walking into a room. It not learning, it's just responding."
Jeff feels that AI is still very basic in what it can do but says that once systems have the intelligence up front, it will herald in a new era of automation capability.
"Everyone is looking at developing smarter systems and self-aware systems, and things like sensing the number of people in a room and identifying sounds better. But personally, I think it's a stretch to call that AI."
Jands, he points out, has a number of beam tracking microphones, explaining that they can, effectively, 'listen' in the ceiling and identify what sounds like speech over noise, lock a beam on the speaker and follow them around the room.
"Again, in my mind, I hesitate a bit and say it's still not really AI, just clever programming."
David, however, feels that AI is shaping the UC sphere in new and exciting ways.
"By knowing how many people are present in a meeting for example, AI can create a range of software control signals. This can automate room reservation and release, autonomously turn off power consuming equipment when it is not needed or analyse the seasonality and use of corporate real estate to optimise office space.
Show me the money
Another challenge, Holger points out, is challenging mindsets in relation to quality over quantity, and value for money.
"The corporate market is slow to buy the more expensive devices because a lot of people see that they can put a $120 dollar camera up and ask why they should buy a $600 or $800 camera. They don't look at the value that comes out of it."
The market, he says, needs to be educated from all different sides, from the integrators or consultants carrying out an installation to the UC vendors whose applications are certifying certain products.
"They [the vendors] understand that better technology gives a better experience. The vendors are certifying products now and even though products have that certification, the vendors are not pushing that. They are pushing their software and if they see that there's a budget problem they can tell them there's a cheap camera they can buy."
It seems the unified communications market needs a more unified approach from the players within it.
"The point comes where the end users have to witness the services or functionality in a more expensive device. And that is the only way to get an IT department to move and buy that product. The education of the end user is important because they are the ones who will say 'I need this feature so I need you to buy that product'."
Chad agrees, pointing out that those in distribution have an advantage in that, by sitting in the middle of the industry, they have relationships with everyone from the manufacturer all the way to the end users.
"This puts us in the best position to play the 'matchmaker' role and develop strategic partnerships that bring quality solutions to market at lower overall prices and, with the guidance of our channel partners, result in sustainable value and solid business outcomes for the customer."
Do UC the future?
So, in a future that currently looks to be dramatically changed as a result of COVID-19 and the effects that will have on how we go about our day-to-day lives, what role can UCC play, and will
the expected development get back on track in a working world that may become increasingly more remote?
Touchless technology is a big buzz word at the moment as we all embrace some newfound germ phobic tendencies.
This, Holger thinks, will accelerate the development of voice control in the office huddle or board room.
"In the past I would say why would you integrate Cortana to say 'mute conference phone' when you know there's a button there. I think we will see some kind of trend toward less touching of devices; we will see speech recognition and intelligence moving more and more into the conference room."
It hasn't been used thus far, he points out, because of security concerns.
"No one really wants Amazon and Alexa to listen to all of your meetings and record it and put it somewhere on Amazon's servers but I think that actually will change now."
Jeff agrees on the touchless side of things but believes that, in the more immediate future, this will manifest itself in more BYOD offerings or incorporation of a user's own device. One of Jands' brands, Aveo Systems, has already upgraded some of its control panel offerings with QR codes that allow a user to control things from their phone/tablet, etc.
He believes that any great development in the UCC area, particularly with AI, has been sidelined as companies try to get their remote infrastructure locked down.
"Things like remote access, security, stability, scaling up their connectivity – the rest of 2020 is going to be occupied by that. The exception, I think, is going to be the touchless thing because there's a need for that now."
Chad says that, instead of solely focusing on workplace technology, companies and manufacturers need to consider how the technology can be used to work from anywhere more easily and
securely.
"In the near future, we are going to see UC systems that take many of the mundane, repetitive tasks out of the hands of users, taking away much of the human error factor and allowing focus on higher level tasks. In the far future, there's no doubt we will see systems and architectures that share resources from device to device, endpoint to endpoint, creating somewhat of a 'neural network'
exponentially increasing compute power, bandwidth and usability."
David adds: "In the future, AI could be used to build heat flows for architectural design, creating smarter buildings and cities, and saving businesses millions in real estate costs."
The rate of acceleration in this area, Jeff feels, has run into a road block for this year. But in his mind, there is a way to go before we see any control systems with that significant level of intelligence
just yet.
"The next level is not just detecting people but identifying who they are, what their roles are and what they need the room to do."
It's the sci-fi stage, he points out, with the computer monitoring the situation, turning everything on two steps ahead of you so that when you walk into the room, the meeting is up and the phone call has started.
"That would be awesome. And also kind of spooky!"