CEDIA APAC Awards 2020 – Best Media Room Level I ($150,000 and under) – The Digital Picture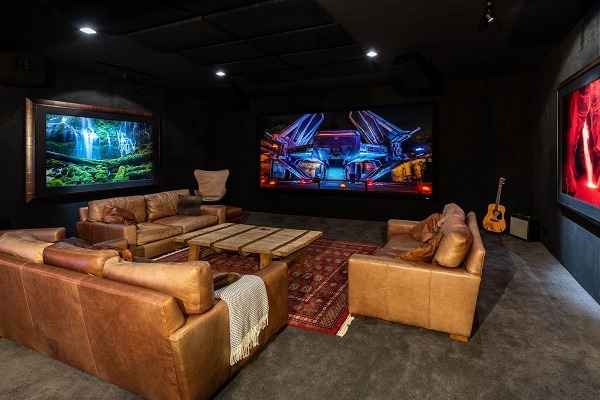 This client loves to rock – and the concert sound that this room produces when the speakers and screens are full of old music videos is something. The volume won't bother the neighbours as the sound isolation here is second to none – hence the name. Krix speakers and subwoofers are pushed hard by the Emotiva and Yamaha amps, and the room is able to stay loud for long periods without distortion.
The Digital Picture has the details:
"During our initial consultation the requirement for watching movies was quite low, however during demonstration of the latest technologies we were tasked with including a full Dolby Atmos immersive audio system into the room so that movies could be viewed with maximum impact."
Next up – the client wanted the widest screen possible. "Fortunately, due to the short throw distance for the screen size, a Lumagen video processor was required to handle the aspect ratio controls and it has an aspect mode which allows for all 16:9 HDTV content to be viewed at full Cinemascope width. This allowed for the selection of a bright BenQ 4K DLP projector."
All of this need for a big, bright image led the team to ask Severtson Screens to manufacture a custom- sized deluxe screen using their high-performance screen material.
CEDIA's judges were impressed by this audio system's "heavy artillery," noting that this project is one that other integrators should look to as "instructional" – it's a great example of getting maximum performance out of a set budget.
EQUIPMENT LIST
AC Infinity
Apple
BenQ
CinemaWorks
Emotiva
FIBBR
ICE Cables
Isotek
Lumagen
Kirix
Panansonic
Sanus
Savant
Severtson Screens
Tributaries
Trinnov
Vicoustic
Yamaha