CEDIA APAC Awards 2020 – Best Home Cinema Level II ($150,000 to $200,000) – Digital Picture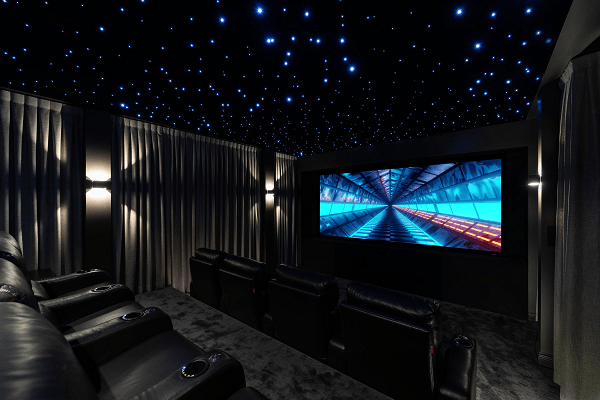 On occasion, a homeowner knows what they want: the sound and image of a truly great movie experience. They just don't know how to "get there." The Digital Picture tells us that's exactly what happened here:
"Our client had some knowledge from having a home cinema in a previous residence and when we were first introduced to them, the idea of a cinema of this performance level had not crossed their mind. After two in-depth meetings and having discussed the industry standards relating to audio and picture quality and the associated costs involved, we were asked to come up with something exceptional."
That they did, delivering a 9.1.4 Dolby Atmos system that delivers reference-quality sound while being completely hidden from view. A BenQ 4K projector delivers a brilliant image to a 158-inch Cinemascope screen, and a custom user interface, careful power management and the dark, elegant aesthetic are also part of this winner.
Another key to the room's success: Sound isolation. A windowed wall was covered up (although an illusion of "shuttered windows" remains on the home's exterior), and the nearby bedrooms are completely cut off from any sound this cinema produces. A custom door helps here, too. Equipment racks are cleverly stashed away in a small space at the front of the room, and the ceiling is covered in a brilliant starfield with a deep black background that creates a convincing illusion of the night sky.
Careful work on the HVAC system and some custom touches to the seating (including motorized headrests) make this theater "a clear winner," according to CEDIA's judges. The project also won a CEDIA trophy for Best Dressed Racks.
EQUIPMENT LIST
AC Infinity
BenQ
CinemaWorks
Cogworks
FIBBR
FURMAN
Kaleidescape
Lumagen
MSR Acoustics
NAV
NEUTRIK
Panasonic
Pro Audio Technology
RTI
Sanus
Screen Science
Severtson Screens
Snap AV Strong
Tributaries
Trinnov