CEDIA APAC AWARDS 2019 – Winner of Best Integrated Home Level I – Electronic Living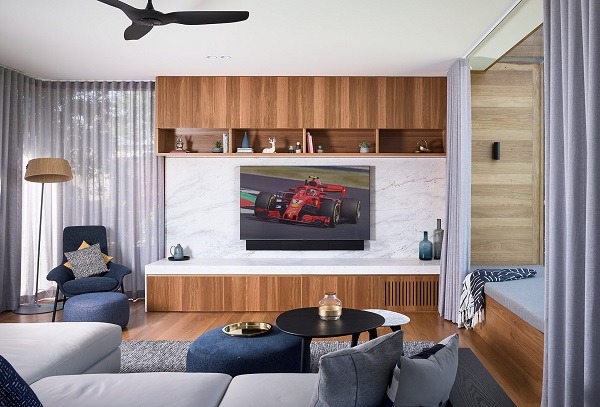 Electronic Living's key aim with this project was to maintain the home's aesthetic quality.
'The New Farm' is an elegant, understated custom-built home with modern flair that is not overwhelmed by gadgetry.
Systems include: four zones of distributed audio, four wireless access points positioned according to best practices, an intercom system, satellite TV, lighting and shading controls, HVAC control, pool control, and robust surveillance and security including access controls, alarms and CCTV.
Automated events include bathrooms that adjust light levels for the time of day or night, and external lighting that's scheduled accordingly.
Preset scenes include: Entertain, that powers up systems where guests will be welcomed; Evening, for TV viewing on the couch; and Party which is essentially an 'all systems go!' setting.
The one big technical challenge in the project was in the area of voice control.
"Voice control via Control4 was new to smart home integration at the time this project was being programmed to additional time was required to define all of the parameters of this subsystem," said the team at Electronic Living.
CEDIA's judges said the project was "the clear winner, with good documentation, and sound design principles."
EQUIPMENT LIST:
Amazon Echo Dot, Apple, Avico, Axis, Blustream, Chase Power, Chief, Clipsal, Control4, Definitive Technology, Design Data (plugs), Integra, Kordz, Middle Atlantic, NAS Australia, NESS, Pakedge, QNAP, Rosslare, Samsung, Seagate, Sonance, Triad, Xantech.