Build your house on your credibility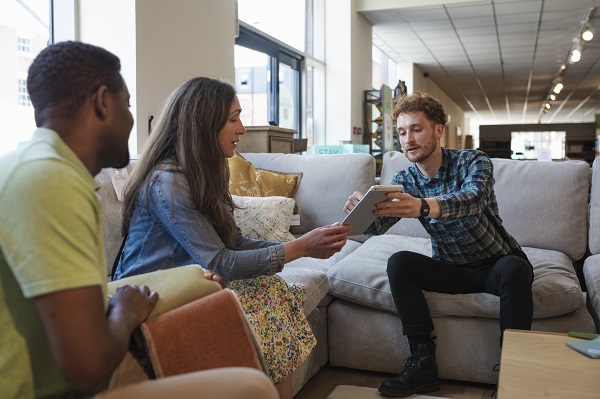 Discussions around product prices are inevitable in the custom installation business. Pete Baker explains the importance of credibility when it comes to influencing a customer's decision for the better.
I just returned from an amazing ISE (Integrated Systems Expo) in Barcelona, Spain. During my visit, I spent one evening with a group of dealers at a local showroom and experience centre. I was struck by a conversation I had with an experienced and talented professional integrator who stated that he had just finished a very nice, dedicated theatre project.
As the conversation progressed, it shifted to the projector he used, as I am currently considering replacing my existing one. The integrator stated that on his last project, the projector used was not his preferred choice, but the customer wanted a different projector that was slightly cheaper and he, quote, "didn't want to get in an argument with the customer".
This encounter is not unique; in fact, I had similar experiences with customers interested in a different brand countless times over the course of my 20+ year career as a professional integrator. And very often you will have competition involved and may not be the cheapest solution, so it is important to understand how to overcome objections about price, as well as product selections.
Initially, I took a similar position as the gentleman I met. However, as time went on, I changed my approach in these discussions and recognised that price is NOT the most important element in the decision-making process.
For many customers though the budget is at the forefront of their mind when they are building, remodelling, or investing in technology, and for good reason! When clients are dropping up to six figures on a system, I can certainly understand and appreciate their budget considerations. While budget is certainly an important factor to consider, performance, reliability and ongoing satisfaction of the system are equally important.
So, how do you successfully navigate a challenging discussion about price with a potential client, when they likely are receiving other bids? How do you find a comfortable balance between budget and delivering a system the client can love and enjoy for many years?
I'll share with you a few strategies I've found that help instil confidence in your clients and shift the focus off price and onto delivering a system that delivers value and exceeds their expectations.
Establish credibility
Establishing credibility sets the entire stage and creates a solid foundation for the courting process between you and the prospective client. When I owned my own integration company, establishing credibility early on with a potential client was the single most important element in securing a project. If I could convince them early on that we knew our stuff, had a track record of extremely pleased customers, and had proof to back those things up, the clients were more apt to entrust us with all aspects of the design and product selection process.
To establish credibility, we would start by greeting our clients in front of a whole wall of framed testimonials. This would be the first thing the client saw when they walked in, instantly lending credibility in our stated dedication to customer service. We also showcased a wall of certifications and awards in clear view for the clients to observe.
The clients would quickly discover that we had a clear and extensive history of very happy customers. So, by the time we sat down in the conference room to review their floor plan and discuss their needs with them, they had literally been surrounded by evidence of our credibility from the moment they walked through the door.
Then, when it came time to exploring product decisions and if the customer would suggest things that we didn't feel was in their best interest, we had more ability to stand behind our suggestions because they had confidence that we were dedicated to our craft and laser focused on customer satisfaction.
Take pride in your expertise
We would further back up our design recommendation and product selection by emphasising all the research we had done at trade shows industry publications and actual product evaluations.
Further, let me ask you this, what's the point of attending all those seminars, reading all those industry publications and going to expos if you don't leverage that knowledge? You are an expert in the field of technology with years of education and experience, lean into it!
A potential client may say something like: "Well, we'd really like [insert brand name and product type], it's less expensive and we know the brand."
Based on your experience, you know that brand would not produce the best performance, reliability, or integration experience. To demonstrate confidence in your educated product selection decision you could respond with something along the following lines, as I often did:
"I know that product very well and I'm certain you have friends, family members or co-workers who use or enjoy it, but based on our conversations I don't think that it would deliver the best experience for you and your family, and this is why…"
At this point in the conversation, it was always helpful for me to back up my product selection with the years of education and industry experience I had invested in, leading up to that decision. One of the ways this can be accomplished is by following up the earlier statement with a detailed explanation of your investment in product research and evaluation over the years.
In these situations, I have often said: "We take our product selections very seriously. Prior to recommending any product, we spend a lot of time and money traveling to trade shows, reading industry publications and reviews, and personally evaluating products and how they integrate with other sub-systems we offer to our clients."
In my experience, clients will appreciate a respectful yet confident reminder of your industry knowledge. Additionally, it's often beneficial to reiterate that you do not take product selection decisions lightly, they are made to ensure the best user experience and seamless integration.
Take responsibility
The end result of the work you preform, and ultimate satisfaction of the customer are your responsibility. You need to treat it as such. Like I said before, your clients are entrusting you with a significant amount of their money to design and deploy a system that their entire family can comfortably use and enjoy. Don't take that responsibility lightly, own it!
Taking responsibility for the end result can help with the clients who are persistent about using a specific brand or product because it's cheaper or better known to the consumer. I would tell my prospective clients: "My job is to deliver a system that you and your family will use and enjoy comfortably, every day and for years to follow. At the end of the project, I want you to hold me personally responsible for your satisfaction with the system. If we use the product that you have suggested, I will not be able to stand over the system, because I do not feel it will deliver the performance, reliability, or level of intuitiveness that we strive to achieve for you and your family."
Saying this has always garnered respect and trust from my clients.
In the end, I did make sure they held me accountable. My team and I were readily available after the installation was complete in case they had any questions or concerns. I would also contact them the first Wednesday of the month following the completion of the project to discuss with them any issues they may be having. If the system wasn't outstanding, I made sure to keep working with them until it was.
At the end of the day
Prospective clients need to gain trust in you – don't ever take this for granted. Show them you are worthy of their trust by establishing your credibility and the confidence you have in your profession.
Navigating conversations about price and product selection can be challenging, no doubt. However, it is extremely important to remember that price is not the only decision. At the end of the project, they won't remember if they saved a few bucks on a certain product, but they will remember who sold the "system" to them and you will be solely responsible if they are dissatisfied.
Obviously, I am not promoting just selling more expensive products to raise up the price tag of the system – in fact, sometimes the better solution you have in mind may be the same price or cheaper. Although, overcoming price objections is a common encounter and central to this article.
The focus here is to provide a few examples and tools that can be used to walk through this topic with a potential client and ultimately deliver a system you and your team can stand over.
Ultimately, the choice of which company to go with is up to the customer, so earning their trust is the only way to ensure that you can have the creative freedom to put together spectacular systems. You might even say that in order to create a great system, establishing your credibility and building trust are kind of a BIG deal.
ADVERTISEMENT

ADVERTISEMENT
ADVERTISEMENT

ADVERTISEMENT