BrightSign, Rockbot collaborate, expand beyond music into TV and digital signage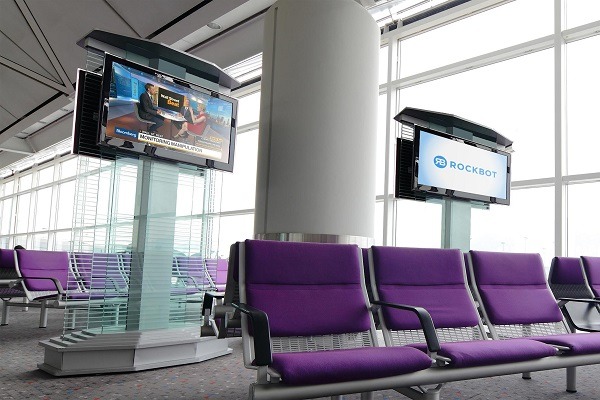 BrightSign and Rockbot have deepened their long-standing collaboration as Rockbot continues its push beyond music into the delivery of TV and digital signage.
The companies, whose partnership dates back to 2012 when BrightSign's media players first powered Rockbot's music service, continue their track record of innovation with the delivery of TV networks and original local video content to air travellers in airports located throughout the United States.
"BrightSign's media players have been instrumental in our ability to grow the Rockbot ecosystem well beyond the earliest iterations of our music service," Rockbot chief executive Garrett Dodge says.
"As we expand into adjacent media types, BrightSign's hardware continues to be at the core of our offering, with the technical capabilities we need, and the reliability to keep our networks up and running without fail."
The recently announced Rockbot Airport TV Network provides video content on in-airport TV networks, replacing CNN's now-defunct news format with a TV experience that informs, inspires and entertains travellers with sports, news, entertainment and lifestyle content from leading brands, all locally tailored for each city.
In addition to TV content, Rockbot's platform enables airports to enhance the traveller experience with music, audio messaging and digital signage. The platform has been rapidly deployed in select US airports – most recently, Cleveland Hopkins International Airport (CLE), Oakland International Airport (OAK), St. Louis Lambert International Airport (STL), Louis Armstrong New Orleans International Airport (MSY), Golden Triangle Regional Airport (GTR) and Bellingham International Airport (BLI), with more coming in the near future.
"It's been exciting to witness Rockbot's growth over the years, and we're especially pleased that our media players are powering this media-rich experience in airports across the country," BrightSign chief executive Jeff Hastings says.
"We're grateful for our continued partnership, and we look forward to powering Rockbot's platform as the company scales its roll-out to additional airports in the months ahead."