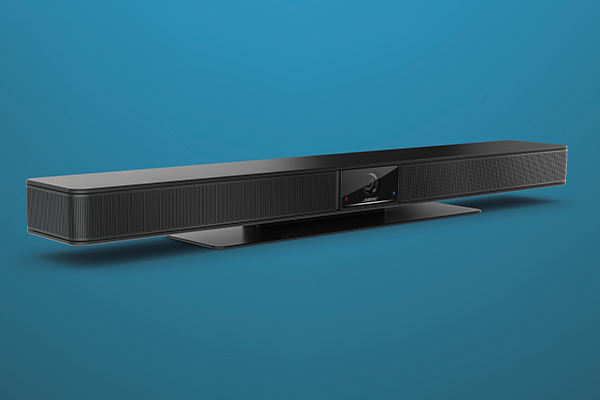 In a new world of huddle spaces and breakout rooms, quality audio and video will be paramount to a workplace. Shane Jackson checks out Bose's offering in this space and doesn't mind joining the meeting.
Let's play a quick game of 'Have you been paying attention?'. Do the words, 'Zoom', 'Teams', 'Webex', or 'Bluejeans' mean anything to you?
Well, of course they do! For the last two years most of us have used one or more of these different video conferencing solutions as we navigate and adapt our work and life around the pandemic. The increase in usage of the aforementioned, and other platforms like them, was gargantuan.
As things slowly go back to normal however, it has become clear that working from home, and using VC and collaboration tools is here to stay. And that requires more robust hardware systems to complement the software.
To that end, have you heard of Bose? Of course you have! Bose is well known for producing very high quality audio gear, with a great range of products. But Bose has also adapted during this time with the recently released VB1 Video Bar solution aimed directly at your conference call, and meeting room spaces.
Let's take a look at what's on offer in this new piece of kit.
What you get
Upon receiving my trial unit, I noticed the heft of it – it was heavier than I expected, housed in a fairly non-descript packaging. But the box doesn't matter, it's what's inside that counts!
Opening the box, I'm greeted with a very sleek and well-designed video bar; you can tell this is a high quality built and designed unit. Official figures put the unit at 686mm wide, 48mm high and 96mm deep, and weighing in at 2.5kg.
You'll find all the usual supplies in the box, including: a 1.5m HDMI 2.0 cable, a 5.0m USB-C cable, a remote control, wall mounting kit, table stand, the power supply, various guides, and one other very important piece of kit – a USB A to C style adaptor. More on this later.
Going back to the VB1 itself, looking at the front we have the camera positioned in the very centre of the unit, the camera is 4K capable but can support a resolution as low as 432×240 at 30 frames, or up to UHD 2160p at 30 frames per second. The camera has a decent field of view allowing for 115° of horizontal viewing and 81° of vertical viewing. Combined with an 8MP image sensor, the camera is decent and performs well enough for your everyday video meetings.
The only let down here is that the zoom function of the camera is digital only, meaning a slightly less clean image. Wondering what a digital zoom is? It's basically a software method to zoom in on a picture, essentially the image is magnified to the desired area with the undesired bits cut out from the framed area. However, the VB1 does have auto framing capability and manual pan-tilt-zoom from the remote or control software.
Also on the front are a few indicator LEDS. These are: a mute indicator that will illuminate red when the unit is muted; a Bluetooth indicator that will pulse when available for connection or remain solid when a device is connected via Bluetooth; and just under the camera we have the light bar, an indicator with a range of different states to let you know what the unit is doing at any particular time at a quick glance.
For example, a small green light in the centre with white lights on either side indicates that a meeting is active, and the camera is on but with auto framing switched off.
On either side of the camera, we have the speakers and microphone arrays, the speakers provide 20W per channel power, and the microphone array is made up of six microphones with a pickup range of about six metres – big enough for just about any huddle space or small meeting room, an even some of the medium size ones too. The microphone array boasts adaptive dynamic beam forming technology.
Now a quick word about dynamic beam forming; this is a technology which involves the microphones listening for active sounds or voices. When it picks up a strong sound or voice from a certain direction it will adjust all mics in the array in the direction that the closest mic pointing toward that sound is concentrated on, and it will lower the inputs of all other mics to reduce unwanted noise, but it keeps monitoring all mic inputs in case another strong sound is detected, for example, another person in the room starts speaking, and thus the process begins again.
The technology also allows for three exclusion zones. An exclusion zone is basically an area you can define that the microphone array will avoid listening to – a bit more on this further down, and I should also mention that the unit supports acoustic echo cancellation (or AEC).
AEC works by blocking the transmission of far-end speech back to the other party in the call. It should block any echoes, reverberations and unwanted added sounds from the signal passing through the acoustic space creating a filter. It's based on an adaptive algorithm that adapts this filter to model the acoustic path. The output of the filter is then removed from the acoustic path signal, in order to create a "clean" signal output. Any echoes in the call environment are removed.
Looking at the right-hand side of the video bar we have two simple buttons, a mute button to instantly mute or un-mute the microphones, and we also have the Bluetooth pairing button.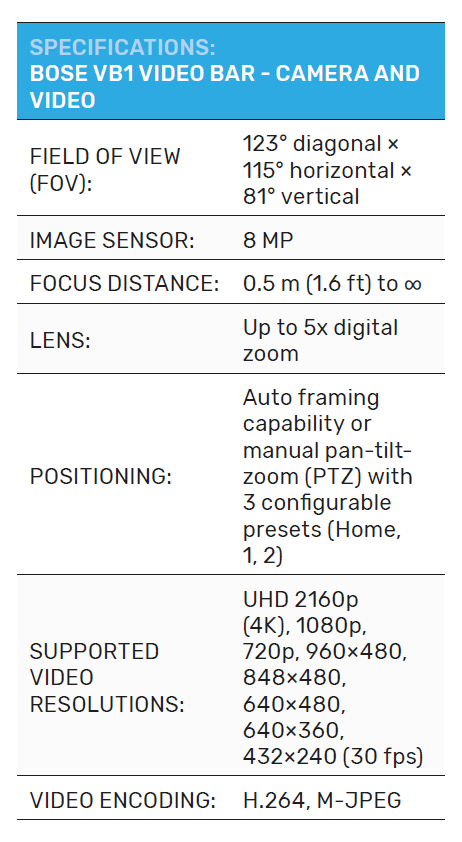 Moving to the back of the unit we have several connections, from left to right we have a network port to allow the unit to connect to your IT network for monitoring and management of the unit. We then have the power port which is 24V at 1.8A, an audio in jack that allows connection to an optional audio source (your meeting room display for example), and a two-pin control Euroblock port.
The HDMI display out port allows for connection of the unit's camera display to a connected display unit.
And now we're back to the USB-C port, this is the port that does the important work and connects to your laptop or meeting room PC via the included cable. Remember my waxing lyrical about the USB-A to C adaptor earlier? This is where it comes into play. There is still a large number of older laptops in circulation, many of which are unlikely to have built-in USB-C ports.
The adaptor solves that problem and kudos to Bose for recognising this potential compatibility headache.
So that's the unit itself all built into a nice package, but let's take a quick look at the included remote control. It's a simple handheld infrared control with the following functions: muting, Bluetooth pairing, PTZ control, presets, auto framing, volume control and camera zoom.
It's a nice design that fits my hands and is easy to use.
Setup and use
So that's all well and good, but how easy or hard is this unit to setup, configure and use? Well let's take a brief overview of the Bose software.
With your VB1 connected to your PC simply install the Bose work app available from Bose's website, start the app and you are greeted with the basic function control of the camera.
Entering the admin password, which will be a default that you can later change, unlocks the full configuration and setup options, starting with a status page which gives a brief overview of the unit, what firmware version its running, current camera and audio status, wired and wireless connection, Bluetooth connection, etc.
In configuration, you can update the unit's firmware, change settings around user access to limit or take away certain functions, and set up your profile. Say, for example, we have four meeting spaces and four units that we want configured exactly the same way, you need only carry out configuration on one unit, save that profile and then simply take that profile file and upload it to your other units.
The system tab offers the usual basic settings around time zone, power modes, etc. Next on the menu is the video stream or control tab, which shows a live stream from the camera, and allows for basic pan tilt and zoom control. Furthermore, this is where you can set up your home position and your preset one and two positions which correspond to the same buttons on the remote control.
Next is Auto framing, you can either enable or disable it, or adjust basic settings. Auto framing is a technology that allows the camera to automatically zoom, pan and tilt the camera view in a way that it will attempt to get into frame all people currently in front of the camera. It's basically face recognition software that tells the camera how many people or faces are in front of it and gives the camera the faces' relative positions. The VB1 then uses this information and frames the image in a manner that all recognised faces are in frame.
You can adjust your image quality quite easily, with the ability to alter things like low light compensation, backlight compensation, anti-flicker, and the usual brightness, contrast, and saturation. Using the slider bars, you can adjust the image as you see fit.
Audio and audio control offers another waft of settings including your microphone configuration.
Thanks to the beamforming array, we can do some pretty cool stuff here. You can leave the beams set to 'dynamic', meaning the microphone array will listen for voices and 'point' its beams in that direction. Or you can manually set the array up in a static manner. To do this, you are given a visual representation of the different microphone zones – you simply drag these zones around until you have the desired coverage.
You can add exclusion zones using the same visual guide – this will create a zone that the unit will avoid pointing to. For example, if there's a door in the corner of the room, you can drag an exclusion zone over that door so the microphone won't pick up sounds of people opening and closing that door as they come and go.
You can also turn off AEC, adjust your input gain, and speaker volume in this section.
Lastly, in the network tab, you can configure your usual wired and wireless network configuration.
What's the verdict?
But Shane! What does all this mean in a real-world video meeting room? Well, let me tell you.
From testing the unit, I was impressed straight out of the box, the design is excellent, and VB-1 just feels like a great product. I tested over several Zoom and Teams calls, video quality was good, with the only let down being the digital zoom, as explained above.
The auto framing worked well enough, but you had to give the unit a few seconds before it would catch up and re-frame to any moment or any people coming or going from the camera area.
I tested this functionality, by moving around in frame moving from the far right to the far left of the camera view and waiting for the auto frame to find my face. And with the assistance of my beautiful wife, I was also able to test its function when another person either enters or leaves the camera's field of view. It works efficiently, just give it a few seconds to find everybody in view and frame appropriately.
The audio quality was excellent but, being a Bose product, I would not have expected anything less. And the microphones did a great job capturing nice and clear audio for the other side of the call.
I had assistance from my wife again with this test; she was in the bedroom and joined our call from her phone, while I sat at my PC. Audio was great from both ends of the call, we could hear and understand each other perfectly.
Setup and configuration was simple and straightforward with the help of the Bose work app.
Overall, this is a top-quality product and although it is one of the more expensive options on the market it is well worth the price tag.
ADVERTISEMENT

ADVERTISEMENT
ADVERTISEMENT

ADVERTISEMENT