New flagship DAC from Cambridge Audio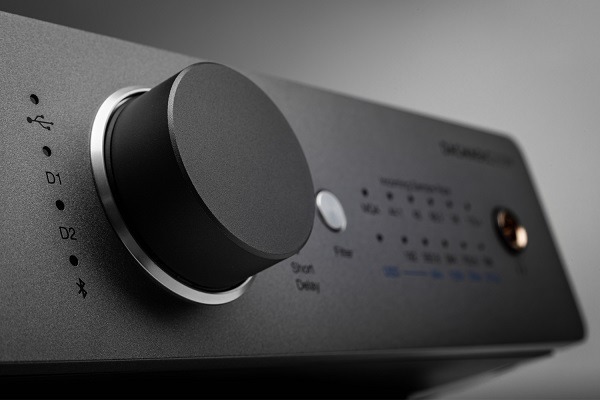 Cambridge Audio has released its new top-of-the-range digital-to-analogue convertor and headphone amplifier, the DacMagic 200M
Now with native MQA support, integrated Bluetooth, a more powerful headphone output, and superior DAC technology the DacMagic 200M delivers a thrilling performance.
The DacMagic 200M has been designed for digital audio from the ground up, ensuring your digital music performs perfectly regardless of its source.
Dual ESS Sabre DACs are at the heart of the DacMagic 200M. A step up from the previous generation DacMagic Plus, the new high-quality DACs can handle PCM and DSD signal inputs at a higher resolution than before – up to 32-bit/768kHz (PCM) and DSD512 natively.
All digital files – whether it's on a CD, streamed from your smartphone, or stored on your laptop – are converted to analogue audio with all of its detail and dynamics intact through the DacMagic 200M.
The dual mono configuration means each DAC processes the left and right channels separately, resulting in a performance that is astonishingly free of distortion, incredibly precise and has superb dynamic range.
Switchable digital filters on the DacMagic 200M offer greater flexibility and control over your listening experience. These three pre-set filters help reduce noise generated by the digital-to-analogue conversion process, with each filter offering a different sonic option depending on the source material.
The DacMagic 200M is Cambridge Audio's first product to natively support MQA files.
Cambridge Audio's DacMagic 200M can fully decode and convert these incredibly accurate files, so they sound exactly as the artist intended.
The DacMagic 200M makes it easy to know when you're listening to MQA files: the LEDs on the front panel will light up when listening to studio-quality audio.
The DacMagic 200M has a high-quality headphone amplifier with a 6.3mm output, enhancing your listening experience through headphones.
As well as using traditional class A/B amplification, the output impedance of the DacMagic 200M's 6.3mm headphone socket has been reduced. This delivers more power, less distortion, less noise and tighter audio control when listening via headphones.
With its extensive connectivity options, DacMagic 200M can be integrated into any home audio set-up. Multiple digital inputs (two coaxial, two optical, one USB type-B) allows you to plug in any number of digital sources – including laptops, CD players, games consoles and Blu-ray players.
Integrated Bluetooth aptX support means you can wirelessly deliver digital files from your smartphone or tablet, too. The DacMagic 200M has both balanced and unbalanced analogue connections, making it easy to connect to all types of existing audio systems.