Biamp launches family of sleek, touch-enabled control interfaces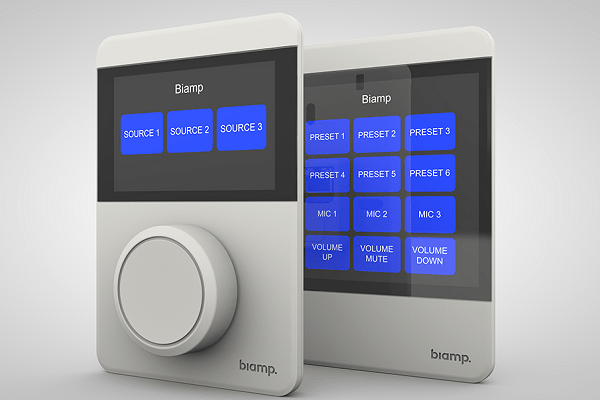 Biamp has expanded its portfolio of conferencing and sound reinforcement solutions with the introduction of TEC-X, a family of wall and table controllers including the TEC-X 1000 and TEC-X 2000.
These let users control AV equipment in presentation spaces and conference rooms that use the Tesira platform.
The TEC-X 1000 combines a rotary encoder ad small touchscreen while the control pad can be programmed to display a variety of button layouts which can initiate any desired action. The weighted encoder is designed to be instantly recognisable to end users as a volume control with the ability to be programmed for other uses.
For applications that require more buttons, the TEC-X 2000 has a larger touchscreen by eliminating the rotary encoder and can be programmed to feature up to 12 buttons.
Both options are PoE-powered to simplify installation and cabling with up to four controllers able to be daisy-chained to support environments that require multiple devices. The design is slim, only extending 0.5mm from the wall and only a very small element is housed within which lets controller be installed in a wide variety of back boxes.
Where the TEC-X family separates itself for common controllers is its ability to have extensive customisation with the user interface through the Tesira software. As more features are added to Tesira or changes are made to the room, programmers can extend the capabilities of the devices to make operational adjustments.
"The TEC-X design team thought of everything. For users, we have a sleek, easy-to-use touch interface with a clear and precise up/down knob to quickly adjust volume, select sources and similar jobs," Biamp executive vice president of corporate development Joe Andrulis says.
"For installers, PoE, simple mounting and daisy-chaining capabilities make it easy to install and highly flexible, while reducing the number of cable runs. For programmers, our new interface is intuitive, fast and integrated right into the Tesira programming environment they're already familiar with. TEC-X is an exciting addition to the Tesira product family."