Biamp introduces next gen conferencing products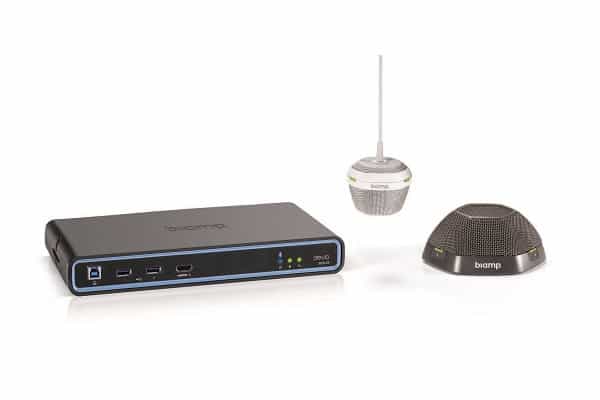 The latest Biamp Devio models SCR-20 and SCR-25 are now available at Hills.
The Devio SCR-25 and SCR-20 are conferencing hubs that provide exceptional audio experiences when using web-based conferencing systems.
The SCR-25 and SCR-20 use Beamtracking ceiling or tabletop microphones and professional grade DSP to optimise the audio quality, allowing far-end conference participants to experience the conversation naturally, making it ideal for huddle rooms or small conference rooms.
Both products support a variety of room designs for computer-based conferencing including a BYOD approach or connection via a dedicated in-room PC.
The Devio SCR-25 also offers joining via POTS/VoIP handset in the room, and with Bluetooth wireless technology, a cable-free solution for users who prefer conferencing via mobile phone.
Devio works in concert with PCs running a variety of web-based conferencing solutions including Microsoft Skype for Business/Microsoft Teams, Zoom, BlueJeans, Google Hangouts/Google Meet, and many more.
For ease of network and device management, Devio can be monitored and managed remotely via SNMP or with the Devio System Administration Utility (SAU) software, and firmware updates can be scheduled and deployed to multiple Devio units as needed.