BenQ launches first EDLA-certified interactive displays with GMS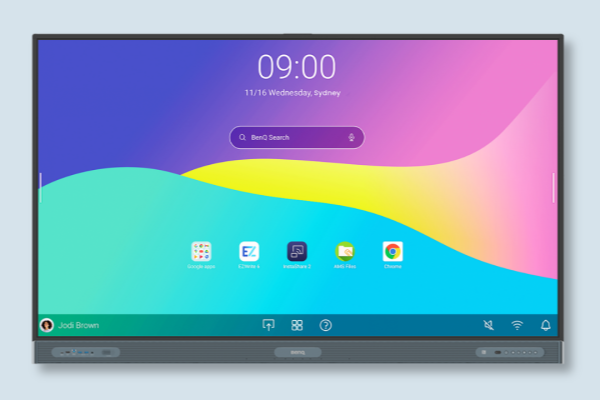 BenQ has launched its first EDLA-certified interactive displays, the BenQ Board Pro RP04 and the BenQ Board Master RM04 and will be one of the first to offer full support for Google Mobile Services (GMS), Google's collection of applications and APIs.
This new generation of BenQ Boards offers schools and businesses easy access to official Google services including Google Play and Google Classroom and provides classrooms with a seamless experience when using Google Search and other Android applications natively on the BenQ Board's large touchscreen interface.
"GMS available on large format interactive displays is a game changer. From the advent of Android-based interactive panels, users have struggled to fully migrate their day-to-day workflow into classroom and office environments." BenQ business manager ANZ Jonathan Lee says.
"Now, with our new EDLA-certified interactive displays, teachers can access the full Google experience, as well as a plethora of educational apps, without having to use their devices."
The new integration includes a revamped user interface (UI) that is designed for the classroom. Users can either type or speak to begin browsing lesson content directly from the Google Search Bar on the home page.
The RP04 and RM04 BenQ Boards both include the powerful teaching tools, EZWrite 6 and InstaShare 2. EZWrite 6 is BenQ's innovative Whiteboarding Software that allows educators to teach lessons, take notes during class, import or display lesson content and use a wide range of specialised classroom tools designed for different subjects.
BenQ's Wireless Screen-Sharing Solution, InstaShare 2, allows up to nine students to simultaneously share and control their screens from their laptop, tablet or smartphone on the BenQ Board, and the Google AI-powered Text-to-Speech means visually impaired students can hear text that is displayed or written on the Board. Multilingual Translation lets teachers and students understand lesson materials written in different languages.
Another helpful new feature, Optical Character Recognition (OCR), assists students and teachers with converting images and documents with blocks of characters into editable text.
BenQ's Account Management System (AMS) allows administrators to sync their Google Workspace Directory and instantly move user accounts into the BenQ ecosystem while the Device Management Solution (DMS) allows IT admins to control their BenQ Board settings remotely and effectively.
Schools will also be able to depend on Google's built-in security features, like Play Protect, to protect them from malicious apps, phishing attacks, possible data leaks and data loss. The RP04 and RM04 BenQ Boards run a proprietary version of the Android 13 operating system that is officially supported by GMS, meaning that schools can provide additional protection against app vulnerabilities.
BenQ Boards are the only interactive displays for education with a full-fledged set of health focused ClassroomCare features aimed at creating healthy learning environments. Both the Pro and Master Series are equipped with Eyesafe certified 2.0 screens that help to protect students' and teachers' eyes from high-energy blue light, which has been shown to cause eye strain and long-term vision-related issues. The Eyesafe screens can do this while still maintaining optimal colour performance.
ADVERTISEMENT

ADVERTISEMENT
ADVERTISEMENT

ADVERTISEMENT