Barco launches new presentation switcher for live events and corporate spaces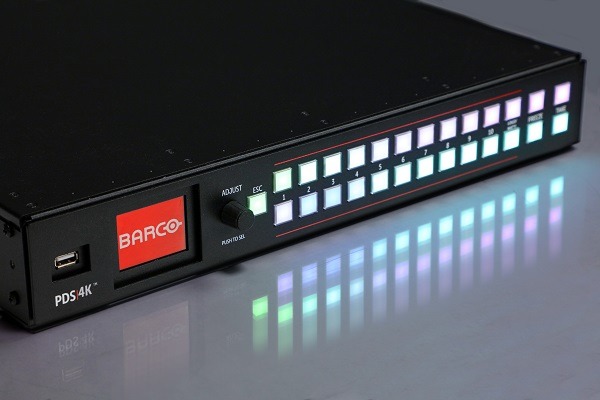 Barco has announced the addition of its live event and operator portfolio, the PDS-4K, a full-screen presentation switcher meeting audience's growing expectations toward high-quality visual experiences as well as meeting users' demands of flexible, long-lasting and easy-to-use solutions.
With the addition of the PDS-4K to Barco's range of Event Masters and screen management systems, users can meet today's requirements for high-quality image processing and fast, seamless switching.
As 4K grows in importance and is fast becoming the standard audience experience for all markets, the industry requires a switcher that manages both the legacy HD sources and newest 4K devices. This latest PDS includes eight 4K inputs and two 4K fully seamless mixing program outputs.
In addition, the new generation PDS relies on the power of the tried and trusted Event Master processing product line. The PDS-4K incorporates the AthenaTM scaling technology for stress-free scaling and seamless mixing performance. It is built according to the same flexible principle to ensure expandability and future-proof upgradability.
"This PDS-4K fills the dark hole of 4K processing for smaller rooms that has loomed over our industry for years. We are excited to have a simple solution for 4K switching with the reliability of Barco. It will be a game changer for the corporate event world," Don't Wonder Productions chief executive Andrew Poley says.
The PDS-4K is compatible with all familiar Barco visualisation solutions including LED, LCD and projection and collaboration devices for a smooth integration without compromising on video quality. And thanks to the API, the PDS-4K can also be combined with the Event Master Toolset, Barco Overture or other third-party control panels.
"As we expand into the fixed install market, system integrators are looking to Barco's solutions to form part of their ecosystem design for visual displays, in addition to switching and processing solutions that can be used across a variety of applications and verticals. In anticipation of the release, our Australian staging and event partners have been forward planning to upgrade their fleets and fixed venues with our latest PDS solutions," Barco ANZ managing director Claudio Cardile says.