Barco expands range with ClickShare Present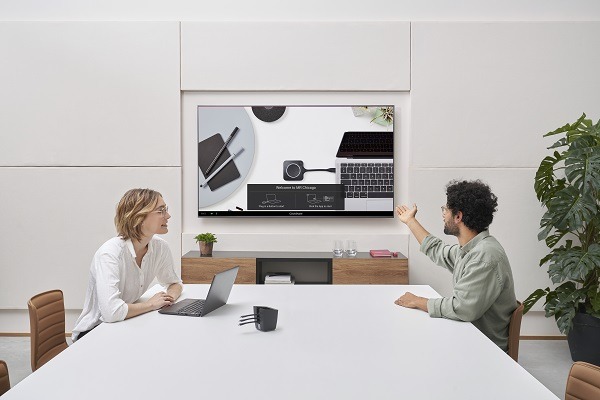 Barco has announced the expansion of its ClickShare family to enable businesses to prepare for a smooth return to the office and step into the new reality of the hybrid workplace.
The new ClickShare Present range consists of two different models for wireless presentation in existing VC rooms.  The entry C-5 is ideally suited for huddle spaces and small meeting rooms, offering the key functionalities of wireless 4K content sharing.
The high-end C-10 is the perfect companion for interactive collaboration in any meeting space and adds enhanced video performance and a set of interactivity features such as touch back support, moderation, black boarding and annotation to make users truly connect and click in meetings.
Barco senior vice president and general manager for enterprise George Stromeyer says: "There's no going back to the way we worked before. We're no longer prepared to slog to every meeting in person. At the same time, the virtual meeting has its shortcomings too. Instead, we are providing hybrid, a seamless blend of the physical and the virtual, of in-office and remote."
Mixed working and collaboration solutions like ClickShare take centre stage in this new era. Barco reinforces the capabilities of high-end video technology and brings meeting participants closer together. ClickShare enables seamless, highly engaged collaboration no matter where employees are working.  With a full range of wireless solutions, Barco encourages businesses to re-enter the hybrid workplace safely and effectively and offers exactly that technology that fully matches their business and IT requirements.
"In the past, technology has tried to recreate real life meetings. However, in-person meetings aren't perfect. At Barco, we have a different approach. We start with people and how every person can be at their very best – engage, agile, fully involved and inspiring each other. Only then we create the tech that makes that happen," George continues.
With the introduction of ClickShare Present to the meeting room ecosystem, Barco now offers a solution for any customer wanting to turn existing conference rooms into fully equipped hybrid collaboration rooms. ClickShare Present is a seamless extension to wirelessly share content in your existing meeting room setup.
ClickShare completes the collaborative experience with full BYOD, interactivity features and workflow integration. The focus shifts from mainly conferencing to true hybrid collaboration.
"ClickShare is simple, easy and wireless. Users decide how they want to present with no complex set up of room devices. You can 'bring your own meeting' anytime in a secured manner to achieve intuitive teamwork by collaborating with remote colleagues," said Marc Remond, Vice President of Meeting and Learning Experiences for Asia Pacific at Barco.
Barco Clickshare is distributed in Australia by Audio Visual Distributors and Dicker Data. Barco Clickshare is distributed in New Zealand by Audio Visual Distributors and Dicker Data New Zealand.