AVPro Edge simplifies video wall setup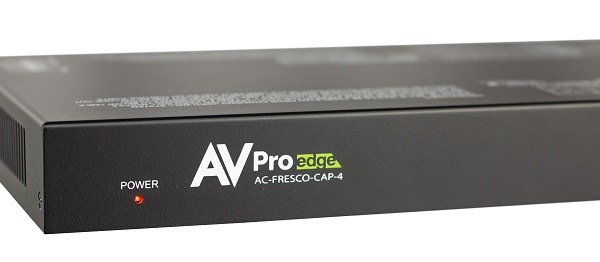 AVPro Edge is offering a simplified video wall solution that works directly out of the box for a plug-in-play function.
The Fresco 4 connects to a source and four displays. It can process 4K HDR video, letting users input 18Gbps 4K60 with HDR signals and output them to each display. It is flexible in that you are able to create video walls beyond 2×2 – if you had 10 AC-FRESCO-CAP-4's, you could create a video wall of 40 displays.
The included software makes setting up capture region easy, with the software laying out the video wall based on the input measurements of bezels. Simply connect to the Fresco 4, enter panel measurements using millimetres for extreme accuracy, and generate your video wall.
AVPro Edge's head of application engineering John Tumbleson, referring to the simple set-up process, says: "The biggest challenge to setting up a Fresco Video Wall is hanging the physical panels."