AVer debuts CP10 controller for safe meetings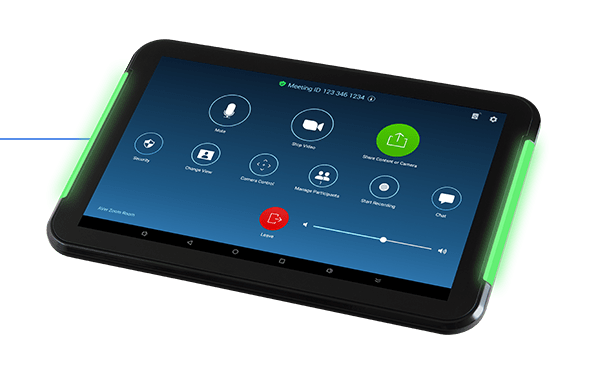 AVer has debuted its CP10 conference room controller which gives users everything they need to control video meetings, and fits beautifully into a number of meeting spaces.
It comes with a 10.1" touch controller, offering a multitude of features including capacitive touch screen, anti-fingerprint screen, LED indicators and an antibacterial touch glass with ion technology to keep people safe in the product's lifetime.
The CP10 conference room controller offers everything you need to control video meetings and fits beautifully in a variety of meeting spaces.
"AVer's CP10 is an easy-to-use, intuitive touch screen designed for dynamic meetings. It promotes the health and safety of meeting participants through its antibacterial touch glass," AVer USA director of product marketing Carl Harvell says.
"AVer is at the forefront of designing innovative technology while promoting the well-being of our clients and the communities they serve — it is our utmost priority."
AVer's CP10 offers fine-tuned touch for productive meetings and supports ten touch points for a simplified user experience. Featuring a built-in table stand, the CP10 incorporates a high-resolution display with a comfortable and ergonomic viewing angle, whether it's used as a tabletop controller inside a meeting space or wall mounted as a scheduling display. The CP10's optional slide-in wall mount enables users to display conference room schedules, while the LED light indicators can be programmed to show the status of a meeting room.
The CP10 promotes simplified installation through a consolidated, single PoE+ connection for power and camera control. With minimal cabling, the CP10 ensures clean installs and reduces desktop clutter for a streamlined appearance. The single-cable connection empowers a flexible placement and reduced installation costs. The CP10 is preloaded with a Zoom controller for plug-n-play setup. Using AVer's PTZApp 2 software, the CP10 enables camera controls with multiple platforms — including Microsoft Teams, RingCentral, BlueJeans and many others. The integrated PTZApp 2 allows users to easily manage the controller with enterprise-management software and platforms.