Audio Visual Revolution announces release of new Audiolab amplifier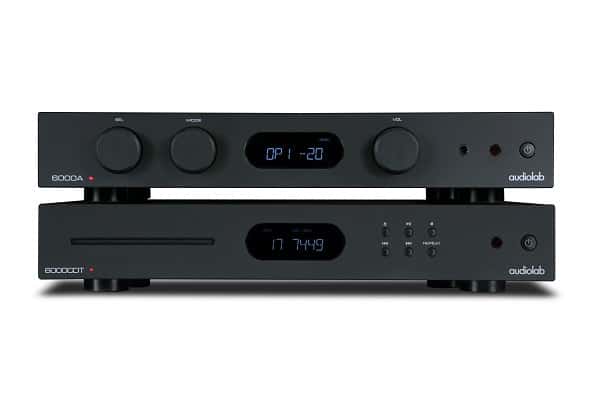 Audio Visual Revolution has announced the release of the 6000A, the latest integrated amplifier by British consumer electronics brand Audiolab.
Outwardly, the 6000A shares a resemblance to the 8300A with its rotary controls and large, central OLED display. Unlike its costlier, analogue-only sibling, it incorporates high-quality D/A conversion, enabling digital sources to be connected directly without an external DAC. It supplies four digital inputs, three line-level analogue inputs, an input for a turntable, wireless connectivity via Bluetooth and a dedicated headphone amp, in addition to its ability when driving loudspeakers.
Audiolab has turned to the ES9018 Sabre32 Reference chip family to perform D/A conversion, using ESS Technology's 32-bit HyperStream architecture and Time Domain Jitter Eliminator to deliver ultra-low noise and high dynamic range.
The 6000A's four S/PDIF digital inputs – two coaxial and two optical – handle hi-res PCM data up to 24-bit/192kHz and take advantage of three user-selectable digital filters: 'Fast Roll-Off', 'Slow Roll-Off' and 'Minimum Phase'. These settings allow users to optimise the response to suit the source file and bandwidth of the partnering equipment.
The 6000A's Class AB power amplifier stage delivers 50W per channel into 8Ω, with a maximum current delivery of 9 Amps into difficult loads. The output stage of the discrete power amp circuits uses a CFB (Complementary Feedback) topology, for superior linearity and thermal stability, as the idle current is kept independent of the temperature of the output transistors.
A substantial power supply, including a 200VA toroidal transformer and 4 x 15,000uF reservoir capacity (60,000uF in total), helps the amp to maintain firm control of the music.
The Audiolab 6000A includes a phono stage for moving magnet phono cartridges. Also included is a dedicated headphone amp with current-feedback circuitry. Its gain bandwidth and high slew rate aim to ensure a dynamic, detailed and engaging performance with all manner of headphone types.
The amplifier also offers three distinct operational modes. Its default mode is 'Integrated', combining the pre and power amp stages, for the connection of digital and analogue sources to the amp's inputs and a pair of speakers to its binding posts. 'Pre-Power Mode' disconnects the pre and power amp stages, allowing the 6000A to be used solely as a power amp, and also enabling additional signal processing to be added by connecting the 6000A's 'preamp out' socket to an external processor, then returning the processor's output to the amp's 'power amp in' socket.
Finally, 'Pre Mode' disables the in-built power amp stage, turning the 6000A into a standalone analogue and digital pre-amplifier. This enables external power amplification to be added; providing a possible future upgrade path for the user.
The 6000A as well as a matching CD transport; the 6000CDT, are available now in a choice of silver or black.