Atlantic Technology turns up the volume with the Gatecrasher3 PowerBar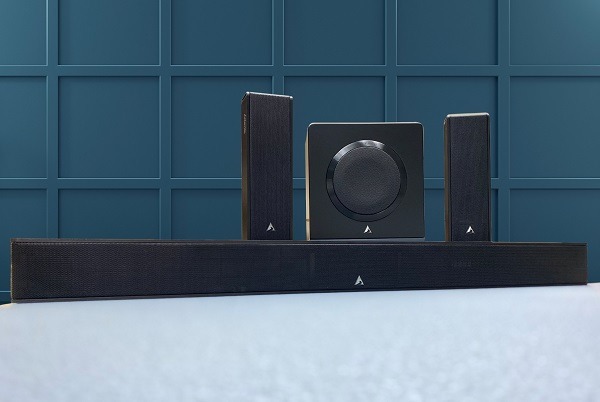 Atlantic Technology's new sound bar, the Gatecrasher3 PowerBar combines three products into one: a powerful active full-frequency Dolby 3.0 LCR soundbar, a Streaming Music System and a Wireless Multiroom Audio System.
It's also the industry's first triple wireless system with three advanced technologies for unmatched connectivity, quality and flexibility: SKAA, Bluetooth and WiFi. Add to this its extensive analog and digital inputs and outputs, and Gatecrasher3 is the centrepiece of an elegant, expandable modern entertainment system that can even be used in place of an AV Receiver.
The sound bar can easily add deep bass by expanding to a 3.1 system with FS Series SKAA wireless active subwoofers. Or, for a full 5.1 Dolby Surround Home Theatre, add the optional FS Series SKAA wireless active surround speakers. Gatecrasher3's automatic SKAA Artificial Intelligence Self Setup means installing and using a high-quality wireless 5.1 Dolby Surround Home Theatre has never been easier.
Gatecrasher3 is part of an unprecedented ecosystem of 11 multi-room audio options. This includes Gatecrasher1 tabletop speakers, plus the brand's range of 10 SKAA high-fidelity wireless products including active indoor and outdoor speakers, subwoofers, integrated amps, headphones and six transmitters. Additionally, with SKAA, users don't need to open an app for multi-room use.
Paul Fredrickson, business development director for Atlantic's PR agency Muto Communications, says Gatecrasher 3 hits all the right notes.
"It is elegant and modern and offers three ways to connect wirelessly (SKAA, Dual-Band WiFi, and Bluetooth). Add to this its cutting-edge conveniences like SKAA Artificial Intelligence and multiple streaming music and input capabilities, and Gatecrasher3 is a viable alternative to an AV receiver for an uncluttered home."
Gatecrasher3 incorporates side mounted controls on its cabinet. Also included is a multi-function remote with volume +/-, track +/-, power, direct input selection, DSP mode selection, and channel level control. The free Gatecrasher3 app makes set-up and control of audio playback and streaming services easy.