Atlantic Technology centre channel speaker for its 8600 home theatre system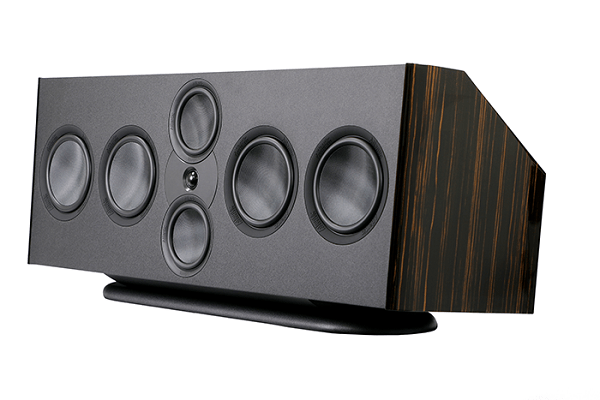 Atlantic Technology has released the 8600eC, its centre channel speaker for home theatre enthusiasts.
It boasts a huge D'Appolito/M-T-M array consisting of four 6.5" fiberglass woofers with two 5.25" fiberglass mid-drivers and an advanced 1" aluminium/magnesium dome tweeter internally isolated within their own airtight sub-enclosure.
Like the company's new flagship 8600eLR towers, the speaker incorporates a 4th order Butterworth asymmetrical time-aligned Linkwitz-Riley crossover with bi-wire inputs.
Finish options match the towers and come in high-gloss lacquered Makassar Ebony or luxurious Gloss Piano Black and hailed a Best of 2019 CEDIA Expo by AVS Forum.
The flagship 8600e home theatre system consists of the 8600eLR tower speakers, 8600eC center channel and new SBT500 or SBT1000 high-powered dual-driver subwoofers. The towers and center are voice matched to each other and compatible with other high-performance Atlantic Technology surrounds, subwoofers and architectural speakers for maximum versatility in creating custom surround or immersive audio systems.
The centre channel is critical to deliver dialogue, music and special effects to hear every nuance no matter the source. The 8600eC employs seven drivers, a crossover with bi-wire capability and acoustic optimisation controls matched to the 8600eLR floor-standing LR speakers ensuring sounds move seamlessly across the front channels.
"With the design of the 8600e system, Atlantic Technology set new performance standards with new driver technology in an all-new configuration for a no-compromise surround system with superb performance in a variety of settings," Atlantic Technology PR and business development partner at Muto Communications Paul Fredrickson says
"The 8600e has an unbeatable combination of smooth, accurate sound, sophisticated style and value. Whether playing music or movies, listeners will appreciate the system's ability to deliver the explosive dynamics of Hollywood blockbusters or the subtle detail of hi-res music."
It also comes with internally-braced 0.75" non-resonant MDF cabinets with seven state-of-the-art drivers.