ATEN Unizon simplifies device management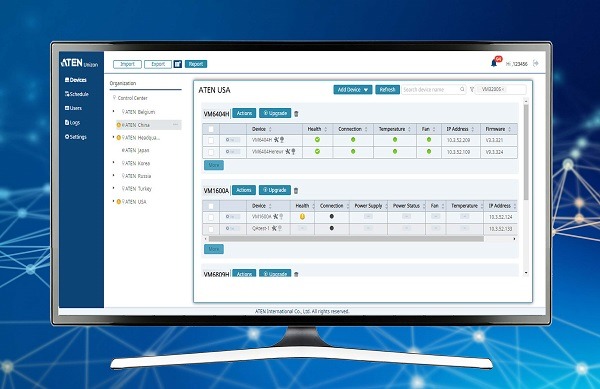 ATEN has introduced new software, ATEN Unizon, that will provide AV and IT professionals with the ability to manage, monitor, and control ATEN Modular Matrix and Video Matrix solutions in real time.
Up to now, it has been complex and costly to maintain and manage devices located in different locations, particularly if they are across cities or even countries. But this new centralised management software will enable users to execute actions across multiple ATEN Ethernet-based AV devices simultaneously worldwide.
Once installed on the client server, the software can be accessed remotely through mainstream web browsers. ATEN Unizon allows administrators to easily perform common AV tasks and even schedule upcoming tasks by batch using a grouping function.
The software will alert users of abnormal events with a notification, inviting them to review system logs of devices monitored by the platform.
Other features include: the ability to remotely update the firmware of multiple devices simultaneously; floor and room view of devices; and the ability to define user roles and respective permission access levels on a room-by-room basis.