All the rave in home theatre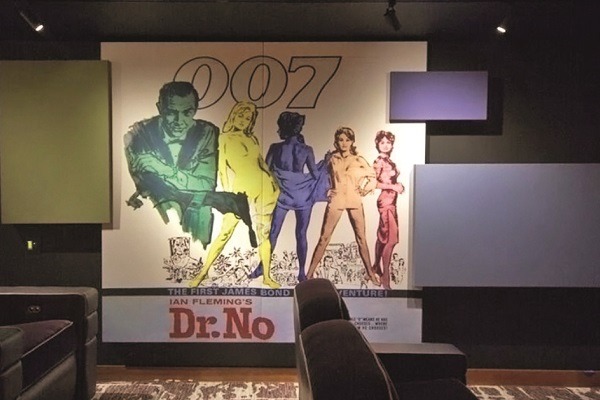 Rayva has recently appointed a global representative with intentions of coming to Australia. Sean Carroll looks into what's involved with the Australian offering.
Sometimes in this industry, influential people get together and conjure an idea that fundamentally changes the way integrators work. This was the case when George Walter of Digital Projection and later Christie fame, cinema design guru Theo Kalomirakis and former NuVo Technologies chief executive David Rodarte sat down in 2016.
The result of their meeting was Rayva, a completely new way of approaching home cinema design that takes guesswork out of the process.
Since its launch, the company has been met with success in the North American market. It has also grown its roster of talent to include former Crestron marketer and CEDIA chief executive Vin Bruno, American Society of Personal Cinema Architects founder John Bishop and Imaging Science Foundation president Joel Silver.
Most recently, the company appointed The BIG Corp founder and Connected contributor Pete Baker to help it to expand globally, which means we will likely very soon see Rayva's designs reach our shores.
So, what is it?
According to marketing collateral, Rayva provides integrators with 'sonically sound and visually rich luxury theatre rooms that ensure AV equipment reaches its maximum potential'.
For integrators, it is a design service that removes most of the speculation and estimation out of the process.
More simply, it is an incredible opportunity for integrators, who may understand speakers, projectors or screens, to leverage their knowledge with that of some of the industry's finest room designers. Further, these solutions are tried and tested, so you know it will work.
"From an end user's perspective, they purchase a 'room' and not a list of equipment," Rayva president George Walter says.
"Rayva works with the installing integrator to maximise the best equipment for the client based on what the integrator is authorised to sell and support, thereby providing a consistent and excellent experience for the home owner."
Pete Baker adds: "Many people believe that with Rayva, you're buying a room treatment with all of the AV equipment. But that's not true."
"Of course, it can provide you with all the AV equipment if you want, as a package solution. But 90% of projects, maybe even higher, that we work on internationally provide just the enclosure with the walls and the acoustic treatments. The integrator specifies and delivers and provides the AV equipment."
Why work with Rayva?
Theo Kalomirakis has designed over 700 custom theatres himself over his 30-year career and has a clear grasp on what is required in terms of engineering, design and acoustics. His vision, as described by George Walter, is to reduce the complexity involved with installation and increase reliability and profitability for the integrator.
"So many integrators simply sell a projector, or they're selling AV equipment: the screen and electronics, the surround processor, the speakers and all that kind of stuff, but they aren't necessarily treating the room properly and I think that is really missing the boat," Pete says.
"Integrators are missing a huge opportunity for business and I don't think that they're maximising the potential of their systems, visually and sonically.
"If you're not treating the room for acoustics and visual elements, you're simply not going to get the best picture or sound."
That's why, George says, it's important to sell to clients a proven solution, like those on offer from Rayva.
"We have developed these environments with industry-leading brands to create optimised specifications that integrators can use when selling their clients a theatre. This helps reduce the time and complexity involved with these types of projects and as such, is a way to increase profitability," he says.
"Our goal was to make home theatre a product not a project, to make it predictable, rather than a 'let's see'."
George also recognises that with the life cycle of theatres shrinking, by selling a room initially, customers and integrators now have a room ready to upgrade, so it's just a matter of swapping out the projector or audio system as necessary.
"Just because someone is an outstanding designer of AV equipment and the engineering part, it doesn't mean that they're exceptional at treating a room acoustically or visually. That's where Rayva comes in. The team has created a room that is tried, tested and repeatable."
Additionally, despite selling a pre-designed room, Rayva doesn't steal any creative freedom from the end user or integrator. The company has collaborated with established artists across the world to offer many styles and themes to the theatre owner.
"We have some pre-designed themes that you can take from but you can also do a custom theme. Let's say that the end user wants a footy or soccer-themed room with their favourite sports team, we could work around that as well," Pete explains.
Brilliant AV, a California-based integrator, turned one wall panel into a large poster of the first James Bond film, Dr. No. The latest three themes and designs are created by various international artists including Greek sculpsit Antonia Papanzanaki, who Theo collaborated with when back in his home country.
"We make it extremely easy to do; it's kind of like an IKEA kit.
"Once we've designed and engineered the room for you and it's approved, we ship you that room with really simple instructions on how to put it together for the integrator and builder," Pete explains.
"We have some patented technology that we use to make that installation process extremely efficient, intuitive and streamlined."