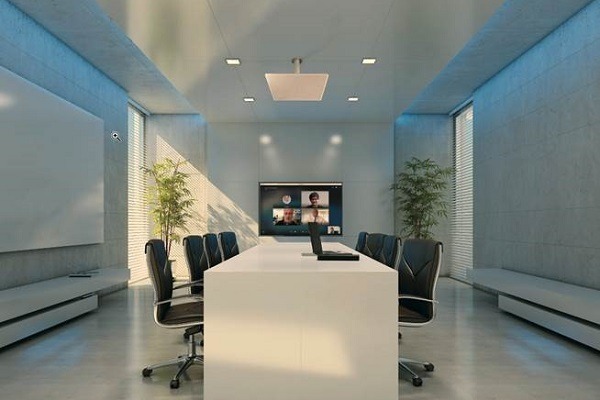 With the number of phone and video calls we are all participating in nowadays, you've undoubtedly experienced acoustic echo. Whether in a video conference or just calling someone who is in the car using their Bluetooth kit, hearing your own voice back in your ear with a noticeable delay (echo), can be very disconcerting, making fluent conversation difficult or even impossible.
Depending on the equipment and room in use, the problem can range from a simple annoyance to a total conversation killer. A system for acoustic echo cancellation (AEC) is now found built into most car Bluetooth kits and many video conferencing appliances to help us achieve clear and natural sounding conversation.
Choosing the right equipment to manage AEC is an important consideration in all remote conferencing solutions.
Acoustic echo in a call with remote participants is caused when the local microphone picks up audio signals (the remote participant's voice) from the speaker in the room and the surrounding environment, and sends it back to the other meeting participants, along with your voice. It can be exacerbated when extremely sensitive microphones are used, speaker volume is turned up very high or the microphone and speaker are very close to one another.
All these issues can be addressed by selecting the right equipment and positioning for each conferencing space, but most importantly, by ensuring that AEC is handled properly in each space by the combination of audio devices. This means that the combination of microphones and speaker system must include an AEC Processor, which could be a separate Digital Signal Processing (DSP) or built into a speakerphone.
Removing the remote participant's audio from your microphone whilst still allowing your voice to be heard clearly by the other participants is a complex task. Because of the changes that occur as the remote participant's audio is played through your speaker(s) into the room and is picked up by your microphone(s), using simple phase cancelling techniques is a start, but just not enough to remove the echo completely.
Modern AEC is handled with DSP, which provides computing power to continuously calculate how the sound from the speakers can be effectively removed from the audio sent to the other participants. In short, the better the DSP AEC algorithms (coding), the more likely it is to be able to effectively remove the echo.
The AEC Reference is the most important part of the echo cancellation chain. The AEC reference is the Audio which is to be removed from your room's microphone(s) before being sent to the remote participant. In most systems, this is simply a copy of the Audio feed to the room speaker(s), but as mentioned previously, the audio from remote participants received into your microphone after it has come out of the speakers into your room is quite different to the reference, and that is where the power of DSP is harnessed to remove the echo, while continuously accounting for changes caused by the room's acoustics, microphones and speakers.
Audio Visual Distributors in Australia and New Zealand have a variety of solutions designed to distribute quality audio and video, as well as achieve the much-needed echo-free experience, including the ClearOne range of video conferencing devices and DSP's.
"Modern workspace design changes are throwing additional demand on Pro AV system designers to think and follow a new direction in system design engineering. ClearOne's BMA360 with 6th Gen AEC, FiBeam and DsBeam combine to create VividVoice, a significant advancement for professional conferencing is introduced to address these challenges," ClearOne senior director of sales for EMEAIO Grifiths Zachariah says.
The range of ClearOne conferencing solutions include the COLLABORATE Versa Pro CT Kit, the COLLABORATE Versa Lite Kit, the CONVERGE Pro 2 DSP Series, the amazing new BMA360 beamforming microphone array, the UNITE 10/20/50/150 and 200 range of USB cameras and many others.
These products can be combined to create video conferencing solutions, including professional-grade echo cancellation, which greatly reduce the amount of setup time needed for the integrator.
"The big difference with the ClearOne Versa Pro CT and Versa Lite Kits compared to others in the market, is that practically all the necessary DSP setup is done for you, right out of the box," Audio Visual Distributors' AV support specialist Murray Nicholas explains.
"These integrated features significantly reduce system design complexity, simplify the installation, consume less rack space and lower system cost for each job."
A single ClearOne CONVERGE Pro2 DSP can easily operate up to three rooms with a beamforming microphone and USB interface in each room. Murray says that when compared with competitors' offerings, this solution can significantly reduce the cost of hardware and programming time.
The new ClearOne Beamforming Microphone Array (BMA360) gives users full 360° coverage in any room shape and seating arrangement, without the need to adjust individual beams. The BMA360 also comes with 6G AEC, delivering an unparalleled full-duplex audio performance.
ClearOne products don't just cover the professional end of video conferencing – they also have home office solutions, which are truly plug and play. The CHAT 50 is the perfect entry level work from home option and includes the same professional grade echo cancelling found in all ClearOne conferencing products.
"ClearOne was the first to introduce Distributed Echo Cancellation in the industry, incorporating it into every audio-conferencing system, including the per beam processing on our beamformers," Grifiths says.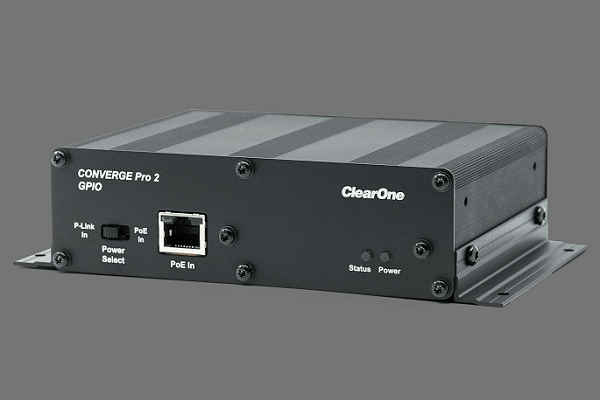 Audio Visual Distributors' sales director Elkie van Zyl adds: "On-board audio algorithms, including noise reduction, filtering and automatic level control, eliminates the need for per-beam processing in a DSP mixer, which leads to fewer DSP mixer resources being required."
The BMA360 also boasts FiBeam technology, giving users the ultimate natural and full fidelity audio across all beams, and within a single beam. On top of that, it comes with DsBeam, which gives end users unparalleled sidelobe depth for superior rejection of reverb and noise in difficult spaces, for clarity and intelligibility.
The ClearOne solutions are ideal for all scenarios where remote conferencing and collaboration is needed, including commercial settings, educational institutions and home offices.
With inbuilt noise cancellation technology, users can be assured that only their voice and content is being picked up by the systems, with ambient noise sources like HVAC systems, noisy laptops, projectors and fluorescent lights, being ignored.
Audio has always been, and will continue to be, one of the most important components for productive collaboration. While businesses have started bringing their staff back to the office, teachers and students are adapting to new hybrid models for education, and meeting spaces are being re-engineered to meet new guidelines to limit the spread of COVID-19. This is where Audio Visual Distributors and ClearOne can help bring easy collaboration for all.
Want to know more? Feel free to give Audio Visual Distributors a call on 07 5561 7530 or email sales@avdistributors.com.au