ABB launches KNX control system to integrate three major voice activation platforms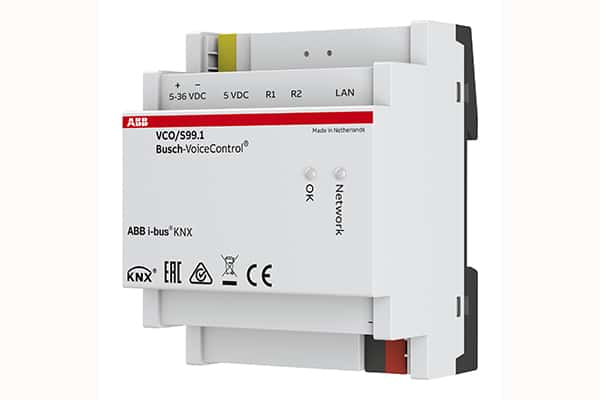 ABB has announced the launch of its new voice activated KNX control system, Busch-VoiceControl KNX, which is compatible with Amazon, Google and Apple.
Acting as a bridge to Amazon Echo, Google Home or Apple's HomeKit devices, Busch-VoiceControl KNX enables users to control a range of functions, including light switching and dimming, the operation of window blinds and thermostat settings. It can manage up to 99 functions, providing information about the current status of the building, including room temperature, light intensity and humidity. It will also detect any motion or occupancy within the property.
Additionally, Busch-VoiceControl KNX is fully configurable via the secure and simple to use MyBuildings portal, which is powered by ABB Ability, the company's cloud-based portfolio of digital solutions.
"Voice control is one of the fastest growing areas in the smart building market and we believe this is the smartest device available. While many products are only compatible with either Amazon, Google or Apple, this is the first certified device for KNX that can be used with all three simultaneously," says ABB Building Automation global product manager Axel Kaiser.
"Digitalisation is a key driver for our business. Whereas remote access and control of building systems was once viewed as an add-on, the combination of automation and data exchange is now at the heart of our new product development."
ADVERTISEMENT

ADVERTISEMENT
ADVERTISEMENT

ADVERTISEMENT