A (virtual) window on the world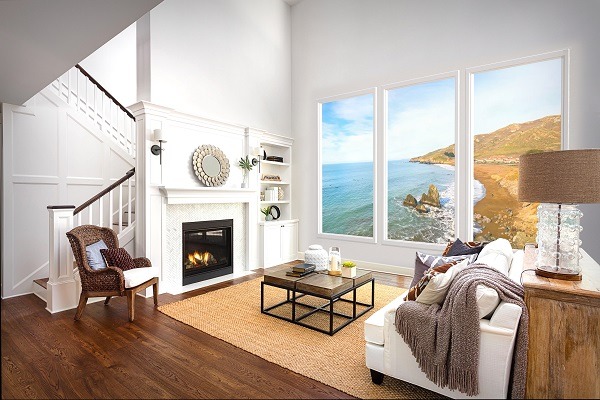 LiquidView released its WindowLV, a virtual window that transforms any room, at InfoComm recently.
Architects, interior designers, and commercial customers can literally add windows to rooms where none existed before or replace a poor view with a spectacular one.
Views can be changed at any time from an original content library of beautiful views shot by National Geographic level cinematographers from locations all over the world.
All views are shot for 24 hours and synchronize to the time of day where the WindowLV is installed. If a WindowLV is installed in New York, with views of Paris, when it is sunset in New York, the WindowLV will show the sunset in Paris. Additionally, all views seamlessly change every day to match the changing length of each day, are shot with feature film quality cameras, and are controllable via an easy-to-use iPhone App.
"Like so many people, I have lived in homes and worked in offices with no views, or terrible ones," says LiquidView chief executive Mitch Braff.
"Improving people's lives through giving anyone a beautiful view was the catalyst for starting LiquidView. Our windows literally transform rooms."
Each Window comes with a trim-ready installation kit, high-quality 4K commercial display, and access to LiquidView's Content Library, available through subscription. The installation kit was designed by AV trailblazer Leon Speakers, who has over a decade of experience designing innovative display frames through Media Décor.
Leon Speakers founder and president, Noah Kaplan, says: "I believe with the WindowLV, LiquidView offers a disruptive solution that can completely transform how you experience a space. This product has the potential to solve some of the biggest challenges that architects and designers face. Imagine being able to provide a view to anywhere in the world, in any space. It's mind-blowing really."
Kaplan and Leon Speakers were part of the design process with the LiquidView team that included architects, interior designers, and the IDEO design team
The LiquidView WindowLV is available for pre-order now and will ship in Q4 2022 and Q1 2023.