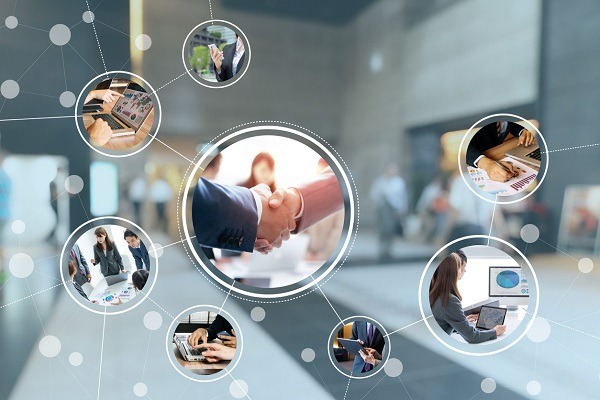 Virtual shows became the norm throughout 2020. But were they simply a means to an end, or a viable offering going forward? Anna Hayes explored the topic.
From February on, the tech industry calendar is usually a bustling circus tent of activity as the busy show season gets underway with ISE, the show that managed to creep in before worldwide restrictions struck earlier this year.
Everything else, unfortunately, went by the wayside.
Gone were the handshakes at the booth, the show floor drinks, the hunt for the best coffee, and anything resembling even the notion of handling a product on a display.
All of the big players, InfoComm, Integrate and CEDIA took the decision to move their offerings online, in varying shapes and forms, while manufacturers such as NEC, Samsung, Crestron, SnapAV and others also got in on the action, presenting solo shows.
Everybody Out
With venues ordered to close down in the first half of this year, show-runners tried to weigh up their options. No one wanted to jump the gun, but at the same time, they wanted to be fair to exhibitors.
As restrictions were announced, all eyes were on InfoComm.
AVIXA senior vice president of exposition and events Rochelle Richardson says they took the decision to cancel InfoComm on 30 March and, two weeks later, announced InfoComm 2020 Connected.
"InfoComm is where the pro AV community comes together to connect, and we simply could not have imagined a year without the show, and neither could many in our industry. In hindsight, we realise we unequivocally made the right decision at the right time."
Closer to home, Integrate followed suit but initially only postponed the August show.
Integrate event manager Soren Norgaard explains: "We were always hoping that Q4 might be ok to do something face-to-face. We were holding off to see what the scenario was and then thinking of a summit with tabletops and education. But it became more and more apparent that that probably wasn't going to happen."
Integrate too took the decision to run a virtual event to coincide with the show's original dates.
In terms of solo events, NEC ran the virtual event Immersion+ in July as a substitute for the many events they would not be a part of, although David Borean, general manager of NEC's brand and customer experience sector, admits that they didn't quite gauge the seriousness of the situation at first.
"We were all a bit blasé, thinking we'd be back to normal in a few weeks' time which is bizarre to think of now."
He adds: "Immersion+ was created as a response to an environment that had changed very quickly with COVID. We created the brand from scratch and we assessed online platforms – we had started this last year with a view to using it for specific events but not a consolidated event like the one we pulled together."
An Exploded Market
The big winners in all of this are the platform providers with many reportedly booked out for months on end.
Director of product management at vFairs, Aatir Abdul Rauf says they have seen up to 20 times the level of leads and business volume compared to pre-pandemic times.
"We definitely saw this massive influx of demand and had to scale our team and capabilities quickly to greet the demand. We're booked out two to three months in advance at this point."
He adds that there has been positive feedback particularly with commentary from those glad that they have had an avenue to connect during the lockdown.
"We strive to mimic the physical experience and create a memorable event for all involved. It's a complete shift in the kind of communication you're having. Everything is digital and less hands-on, with clients handing the reins to our project management team."
Mediasite Events has over 15 years' experience of delivering content to remote viewers, with approximately 90% of their events being of the hybrid variety.
Mediasite account executive Scott Davis explains that this changed in March 2020 when the company transitioned to 100% virtual events.
"The Mediasite Events team pivoted to create a complete virtual event solution at the start of the pandemic for flexible, scalable, and engaging experiences despite distance. The platform includes everything from a customisable event website with live or simulated live session streaming, a content catalogue, e-commerce options for sponsors, a virtual expo hall, e-poster sessions, interactive features like live chat, and more."
Community Reach
While governments around the world have been busily dropping the 'roadmap' buzz word over the course of this year, it was one thing that show organisers did not have.
Rochelle stresses: "We were starting with a blank canvas, a steep learning curve, and less than 45 days to pull together our first online InfoComm experience. We went from planning every engagement through the lens of being in-person to planning every aspect through the lens of connecting with the participant online."
The key for all show runners was to bring the industry together and, to that end, most agree that the on-demand nature of the shows was a winner in terms of global reach.
Soren remarks: "We had 1,500 registrations and 1,100 attended at least one session. That's a conversion of about 70% so we're very pleased with that. It was a good way of keeping the brand out there in the market because it has been a focal point of the industry for a number of years and if you're out of the market for a while, people tend to forget quite quickly."
David says that NEC's event helped them to create different relationships with customers as the initial interaction was different and more in-depth to that of a show floor card swap.
He also believes having content available on-demand is crucial when it comes to connecting to people, and NEC has undertaken a lot of post-event marketing of the platform.
"We always said that 22 July was a moment in time. So, it was a day but the fact that the platform was available for three months meant that anyone who missed it could log on the next day and watch the entire thing, or connect with different parts of the content on demand."
Rochelle points out that InfoComm Connected drew 23,408 registrations, 41% of which were from outside of the USA.
"The show took place from June 16 to 18 and the platform stayed open until August 21. During that time, we saw ongoing logins by attendees to browse exhibitor showcases or view on-demand sessions."
Scott says that organisers and event marketers needed to think differently about their events, preferably thinking beyond the two-day accessibility.
"Give attendees two months or the full year to access the content. Organisers are competing with a lot of digital noise virtually, so make it easy for attendees to access the information when it's best for them."
Virtual 'Cheers'
Of all the things a virtual show can provide, the spontaneity of human connection is one thing that it cannot recreate.
Aatir points out: "The main compromise is the face-to-face aspect. Virtual events are not as intimate, and people who are extroverts usually enjoy connecting at that level."
The other big factor is the commercial aspect as a virtual show doesn't have the same revenue model as a live event.
Soren says that while you can secure sponsorship and ticketed content for a virtual event, it doesn't come close to a live event in terms of revenue, while the networking side of things is also more disconnected.
"You don't get those incidentals where you're walking down an aisle, maybe looking for solutions and someone pipes up and says 'we did something similar a few months ago and this is what we did'. It's that cross-pollination of knowledge that you can't plan for."
NEC found that incorporating a virtual networking lounge where attendees could interact with presenters created some semblance of one-on-one engagement.
"But you cannot replace that human engagement," says David, pointing out that companies, throughout lockdowns, have tried to do so with Zoom parties and get-togethers.
"There's that element but you're still not in a room together, seeing the nonverbal behaviour and that camaraderie and collegiality that goes on at events."
Life after Live?
There is some light at the end of the dark tunnel that has been 2020 however.
InfoComm China took place in Beijing back in September and Rochelle is hopeful of an in-person US event in Orlando next year, with some virtual enhancements.
"There will definitely be virtual elements of the show for people who are unable to attend in person. We want the learning and engagement to go beyond the week of the show and walls of the convention centre, and virtual content allows that to happen."
Soren too is confident of a live show of reasonable size in August.
"We're hoping to be back to some normality by the middle of next year. Yes, there will be restrictions and precautions that we will take to limit exposure. They are talking about rapid testing kits and, hopefully by then, there will be some kind of vaccine, and that should create more confidence in the industry. Personally, I think exhibitions will be back in full force by 2022, but 2021 is anyone's guess at the moment."
For NEC, David says they expect Immersion+ 2021 to be another virtual offering or, at the very least, a hybrid format, believing that it does indeed have a future.
"What we know now is that technology, and access to technology and level of engagement will continue to improve so there's an environment for us to really dive into that and we're planning for 2021. I think there's no doubt that Immersion+ will have more longevity over time, and it'll be a mixture of hybrid style, with live event and online."