Vision One Technologies deliver virtual soccer experience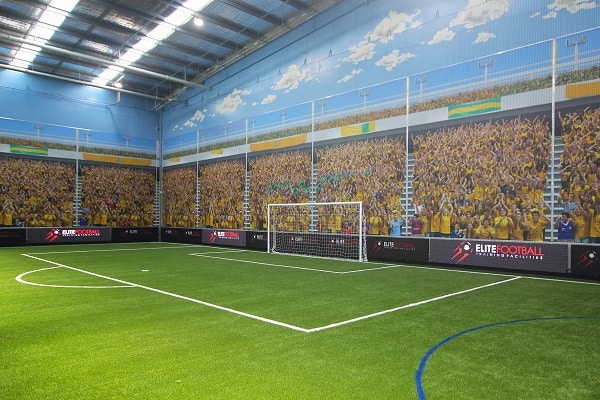 VuePix's projects team has partnered with Vision One Technologies to deliver the ultimate virtual soccer experience at the recently-constructed Elite Football Training Facilities centre in Maribyrnong, Melbourne.
Vision One Technologies was appointed to supply and install an audio visual package for the new state-of-the-art sports and leisure facility, improving the opinion that this indoor facility is a spectacular outdoor football stadium.
The Vision One team chose VuePix LED signage to create five advertising boards (each 4m wide) and positioned them around the perimeter of each football pitch. The VuePix QE series panels feature high brightness LEDs and deliver a good visual performance in any light condition. The separate control panel at the back – containing the power supply and receiver card – can be easily replaced, which reduces the servicing time to minimum.
The VuePix LED perimeter signage was integrated with static advertising boards within the venue, simulating the traditional environment of outdoor football stadiums. The advertising boards were paired with a BrightSign Networked Media player / Signage Playback Device to control and schedule the content.
With the Network HD Touch mobile app installed on an iPad device, user control is as simple as drag and drop. All inputs appear in real time at the bottom of the screen, allowing any user to select their preferred input to any of the configured output zones.
"The seamless integration of the whole system into the iPad touch control was particularly impressive to our client as it removed both the cost and the need for a third-party control interface," says James Sismanes from Vision One.
"This state-of-the-art facility has resulted in dropped jaws from everyone visiting it, even the indoor football fanatics within our own team."