Yamaha UC, Mersive Technologies introduce BYOM room system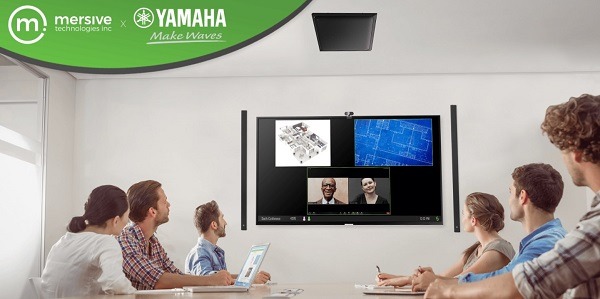 Yamaha Unified Communications has upgraded its meeting collaboration and hybrid learning with a touchless, Bring Your Own Meeting (BYOM) room solution that pairs Yamaha's ADECIA ceiling microphone and speaker solution and Yamaha UC strategic partner Mersive Technologies' Solstice wireless collaboration system.
When enabled with the Solstice Conference, users can enhance collaboration by adding content sharing alongside agnostic room support for any PC-based video-conferencingapplication.
The tandem delivers a new class of video conferencing room system that aims to improve the collaborative meeting and learning experience between onsite and remote participants.
"Today's remote workforce and classrooms are placing an increased emphasis on uncompromised audio quality and flexible, intuitive content sharing and collaboration," Yamaha director of strategic partnerships Michelle Baeza says.
"When we announced our partnership with Mersive earlier this year, we did so with the common goal of providing customers with stress-free meeting experiences, starting with our YVC series of conference phones. Now, with integration between ADECIA and Solstice Conference, customers can effortlessly build out touchless meeting rooms and learning spaces that produce absolute clarity of communication and ideas."
Yamaha's ADECIA ceiling solution is a family of communication products designed to work seamlessly together to provide a complete and customisable audio solution for any meeting or learning space.
It includes the brand-new multi-beamforming RM-CG ceiling microphone and RM-CR audio processor, as well as Yamaha's long-trusted PoE switches and VXL Series line array speakers.
The ADECIA ceiling solution clearly picks up several people speaking at the same time and ensures that voices, not noises, are captured in enclosed or open conference spaces of varying sizes. Its multi-beam and audio postprocessing technology creates virtual personal microphones that follow speakers moving around the meeting area. The narrow beams and audio postprocessing focus on voices rather than sounds for incredible clarity.
The complete solution immediately detects all components of the system and configures them to be optimized for the room environment, accounting for the location of speakers and microphones, reverberation, and echo behaviour. Setting up a room is done through the system's configurator in four effortless steps. With USB, Bluetooth, Dante and analogue connections, this flexible system can fit a variety of meeting spaces.
Mersive Solstice is a software-based, cloud-enabled team space collaboration platform optimised for both onsite and remote participants. Multiple participants can share, control, and markup content from any device.