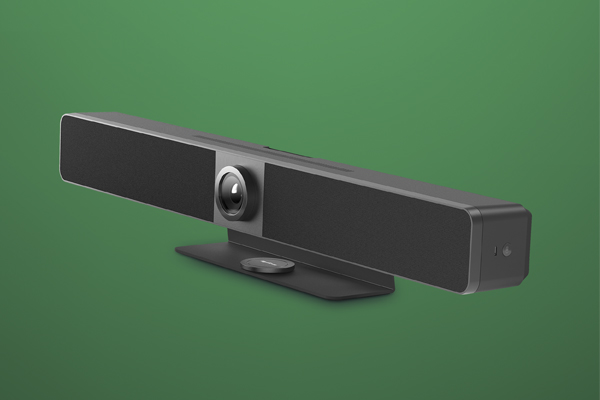 Despite a return to face-to-face, most institutions still desire robust video conferencing solutions. Chris Downer tests out this nifty new video bar.
We are continually building new learning and meeting environments at Beaconhills College. Each year requires us to design and implement new AV installations or refresh old systems. Our new buildings continually provide collaborative meeting spaces, and we require easy-to-use, cost-efficient and effective technologies to support these spaces.
Video conferencing and the benefits of collaboration diminish when users cannot hear or see each other well (in that order of priority). We continue to enjoy the ability to meet face to face again in 2022, often as a preference when convenience meets this ability. When we do meet online, the experience must be optimal to keep up with the intrinsic human preference to connect with others in person. The requirement for the user to experience high-quality video conferencing has been elevated in recent times and we need to use equipment that supports this.
The college has been using Zoom for video conferencing however we are now transitioning to Microsoft Teams as part of our larger college-wide digital transformation to Microsoft 365.
Historically, our meeting spaces have provided a semi-commercial camera, microphone and speaker option that has unfortunately required warranty repairs on several occasions. A key technology delivery theme for us is the concept of Utility (fit for purpose) plus Warranty (fit for use) to derive value from our technology investments.
The moment our users connect to the VC system, and it fails to work (warranty), value is not realised, and the investment has diminished. Think of investment stocks crashing and then possibly returning some value in time. The AV system repair process is similar, when the equipment crashes, it cannot be used and provides no user or business value.
Post the downtime repair phase, the system can provide value again, provided the user's faith in the stock can be restored. Let's pray it was not their first impression! Stating the obvious, the aim is to always avoid the crash.
The WyreStorm Apollo VX20 video bar solution is of particular interest to us as it is a dedicated commercial product, reports extremely low failure rates, and provides an outstanding user experience in both flexible connectivity and the quality of the components that translates into better sound and vision. This product combination protects our investment and provides the conditions for a substantial return on investment.
What it is
The Apollo VX20 is a high-quality product that primarily provides a video presentation and conferencing solution best suited to collaborative environments. A key theme of the Apollo VX20 is the variety of connection options for both presentations and connecting via the several USB options to the camera, microphone and speaker.
The wireless video option supports our growing need for user simplicity despite the many different user device types available. We have not reached the point just yet to wirelessly connect to the conferencing components however I imagine this is not too far away for the industry. The Access Point (AP) enabled is the default mode and this means that the VX20 will act as a bridge to an existing network via its LAN connection. This is handy if we want to use the VX20 as the primary wireless AP. The other mode is AP disabled where the built-in AP is completely disabled and in this instance, the VX20 will be connected to our LAN so it to be discoverable on the Beaconhills network.
Note that Miracast is a P2P connection and requires a direct wireless connection to the VX20 and will not work if the client's PC has Wi-Fi disabled. Airplay differs here as it can be used over a standard WiFi connection.
The wireless connection for screen-sharing content to the Apollo VX20 is via Airplay for Apple devices or Miracast for Windows and Andriod devices – we have them all so this is a welcomed feature. Wireless streaming is via two methods, native AirPlay or Miracast or by adding the APO-DG1 USB-C dongle. The dongle is a simple device, it simply connects via USB-C, you hit the play button, and bam! No cables are needed. This tested perfectly on the first attempt.
As for wired connections, as we trend toward more USB-C connections, a handy feature is the provision of both presenting and USB data to connect to the conferencing peripherals using one USB-C cable. We continually focus on the user experience so a simple USB-C connection for audio and video transmission and our users then simply ensure the WyreStorm Apollo VX20 is correctly selected in Zoom or Teams is a great outcome.
Traditional connection options are also available – a native HDMI connection for presentations and a USB Type B to connect to Apollo's camera, microphone and speaker.
For a dedicated space that does not rely on BYOD, a 'Zoom Room' is also an option using a dedicated room PC providing access to Apollo's conferencing peripherals. In this instance, users can simply use the IR remote control and users with BYOD devices still have the opportunity to connect for sharing content.
The APO-COM-MIC is an expansion beam-forming microphone option that supports voice capture by helping the auto-gain feature. This will enhance performance, especially in larger rooms to get the mic closer to the presenter so the playback is not too big and boomy. Again, a good user experience must be seamless and anything that gets in the way of the experience hinders collaboration. These expansion USB mics also provide a mic mute and can also be daisy chained (up to three add-ons) for very long tables and the connection distance can be increased up to 60m using a point-to-point USB to ethernet extender.
When Apollo is in a standby state it generates a guide screen that provides simple steps for wireless casting. A custom image can be uploaded to replace this default guide screen via the VX20's web interface.
The Apollo also provides a split-screen option. This can be a combination of wireless and wired devices, but not two wired devices. Using the split screen will enhance our collaborative possibilities. We could have two Apple users using Airplay, one Windows user using Miracast and one USB-C cabled device. This Dual-View function uses Last In First Out (LIFO) so the Apollo will automatically switch to Dual-View when a second device sync is detected and can revert to a single full-screen image when a second sync is disconnected.
Clever, well thought features in our user-centric environment culminate into a great user experience that increases the value of the investment. In a resident PC environment, you can also manually adjust this to force a certain USB connection as a fixed host so that newly connected devices do not trigger the auto switch, which is great for Zoom or Teams room applications.
Another great feature to support our use of SMART Interactive touchscreens is the USB 3.0 device port. Any peripherals connected to this port become available to the personal device connected via the USB-C or USB-B connection.
The Apollo VX20 becomes cost-efficient considering room control is not required using the CEC auto power on/off for connected displays. When a source device is connected for the first time, this can trigger Apollo to send a CEC command to automatically turn on the display and vice versa. If a control system is required, the Apollo also features an API that can be connected to third-party control systems.
The VX20's integrated 4K camera features advanced functionality including ePTZ and AI tracking. ePTZ is the ability for the camera to "electronically" simulate a mechanical pan, tilt, zoom camera. Presenter tracking detects motion and then tracks the moving object (person) and is best suited for scenarios where only one person will be in the frame such as the front of a classroom where a "presenter" is speaking.
Speaker tracking is also featured using audio detection via the beamforming microphones to intelligently PTZ to a person speaking. This mode is best used when multiple users are positioned around a conference room table and are all in the camera's FOV. Auto framing is also featured using motion detection and body recognition to zoom in or out to best frame one or multiple people to the camera.
Testing experience
The first step in testing the WyreStorm Apollo VX20 Video bar & Switcher was to access the rear cable management section using a screwdriver – easy. The cable management provides nine clever cable mounting teeth options for large and small cables. I connected the USB-B Super-Speed 3.0 and seated the cable in one of the larger teeth options providing a very secure connection. The USB-A end easily connected with my laptop as expected.
Using Microsoft Teams, the audio device, speaker and microphone were all immediately presented as the WyreStorm Apollo VX20. Testing in Zoom, again the VX2 presented as an option for speaker, microphone and video camera. I value the ease of Zoom's 'Test Mic' and 'Test Speaker' functions so I engaged the test mic with a "check one-two, one-two".
The volume was certainly hot from the get-go, so I grabbed the remote control and dove for the volume button. Using the down button on the VX20 remote reflected in the Zoomz GUI that the volume was reducing. The audio playback was of very high quality and was very sharp. Engaging the mute button on the IR remote displays a red light that is visible looking at the speaker and indicating that the user is on mute.  When the mute is disengaged, a white light provides visual feedback that the microphone is live and ready to go.
I connected the HDMI out and to my test display screen. Some easy on-screen prompts directed me to use Windows + K (cast), and there was the Apollo VX20. I selected it not expecting an immediate result however to my delight, it worked immediately, and the picture was great.
I moved around in my chair whilst connecting the HDMI and to my surprise, the camera angle had changed, it was moving around with me. The presenter tracking works great, it made me ponder the future AI cameraman role and the workflow possibilities in our classrooms and meeting spaces.
Conclusion
The Apollo VX20 would solve our wireless video needs, allow for interactive presentations using various methods, and connect our BYOD users to the camera, mic and speaker for conferences. Provided I can position this unit in a location for presenter capture avoids the need for the auxiliary USB camera options and add-on microphones to offset any proximity concerns and further enhance our spaces.
If larger audio playback is required, the AV sound system can fulfil this requirement via Apollo's HDMI output. The WyreStorm Apollo VX20 video bar solution and USB-C Casting Dongle provide contemporary connectivity options for our device fleet and use high-quality components providing the conditions for happy users and thriving collaboration.
We expect the failure rates to be very low to support the investment so overall this solution should be specified in future builds.
ADVERTISEMENT

ADVERTISEMENT
ADVERTISEMENT

ADVERTISEMENT