WolfVision simplifies BYOD presentations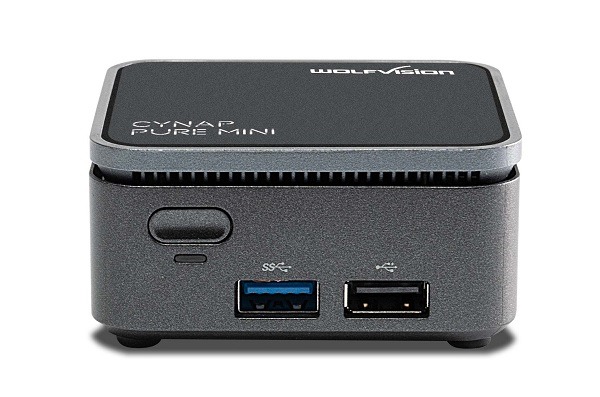 WolfVision has launched the WolfVision Cynap Pure Mini, a new easy-to-use, wireless screen sharing solution to enable outstanding presentations.
The new WolfVision Cynap Pure Mini combines simplicity, hassle-free screen mirroring, and 4K UHD output resolution in a compact, portable solution that is ideal for presentation scenarios in meeting rooms, classrooms, and team huddle spaces everywhere.
With no apps, dongles or extra software required, it brings best-in-class technology to presentations for seamless wireless screensharing capabilities.
The Cynap Pure Mini is a bring-your-own-device screen sharing solution which features an easy-to-use interface, enterprise level security with 100 per cent wireless data encryption, IEEE802.1x authentication, customisable security features, and remote management and administration via vSolution Link Pro software.
It supports: AirPlay; Miracast (including Peer-to-Peer and MICE); Chromecast; and vSolution Cast screen mirroring. It can be set up to immediately start sharing content on-screen from any smartphone, laptop or tablet.
It also features two USB ports, HDMI output port, and a 1GigE LAN port, with audio via the HDMI and USB ports, and also includes Bluetooth device discovery. The unit weighs 260g, with dimensions of 70 x 70 x 35 mm (2.76 x 2.76 x 1.37"), with a 24W power consumption.