Who's the Sound Designer anyway?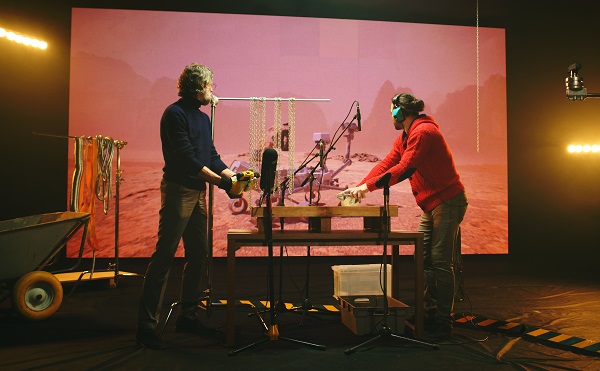 TV shows and movies come to our screens freshly mixed, but they're not always suitable for the space. Anthony Grimani outlines the process of tuning a room for optimal audio.
Not long ago, we picked up a client who was a serious "do-it-yourselfer". He wanted to turn his living room space into a home cinema, then went about watching every YouTube video, reading every article, and posting on every forum he could find.
He amassed a great deal of knowledge in a short time, and he did an admirable job on his project; he brought us in just to help him iron out a few wrinkles.
One such wrinkle came near the end of the process when he was doing his final EQ of the system. He complained that he just couldn't get it quite right, so I headed over to see what I could do. He played a clip for me, pointing out several subtle sound effects, such as a welding torch in the background. He couldn't hear it enough, so he kept fiddling with the EQ to bring it out. After giving a quick listen, I told him: "Well, good news. That welder is faintly in the mix, so you don't need to worry about hearing it in the foreground."
A blank stare in response. Slowly, he said, "Whaaat?"
We spent the next hour discussing how elements are blended into a soundtrack to make up the aural experience, and how it is best to set up the room to match the reference environments where soundtracks are made. It was like a revelation; in all his online research, no one had discussed where and how film soundtracks are created, how the sound elements are finely blended from channel to channel, and what makes something sound immersive versus pin-pointed…
Let's take a step back.
Movie and TV sound is born when an artist called a "sound designer" takes a look at the program and makes a list of everything that gets a sound effect. Those sounds – except dialog – almost never come directly from an on-set recording. They're all artificial. A whole team of people take a look at the sound designer's notes and go to work finding, recording, editing, and mixing a whole menagerie of individual sounds into larger groups called stems.
There are also stems for things like dialogue and the score coming over from the scoring stage. Once these stems are ready, they get brought into a room with a digital audio mixing console, and a group of up to two or three re-recording mixers work together with the director to blend all those stems together, ultimately deciding what you are and aren't supposed to hear. Once they've completed that sound mix, it's then dumped into Dolby or DTS compatible files depending on whether it's headed to a DCP (Digital Cinema Package) for distribution to cinemas, or to mastering for a home video or streaming release.
Our job as integrators is not to design the sound or mix the track. That's already done by the time we get our hands on it.
So, what is our job?
We get the pleasure of creating the space or environment for that track to be experienced by our customers at home. We're like the curators of an art museum. We don't paint. We make sure the lighting, temperature, humidity, etc., are all ideal to present and preserve the paintings to be viewed by the museum's patrons.
Our job is simplified by the fact that SMPTE and ISO have standardized the engineering and tuning of the rooms used for sound mixing. SMPTE 202 and ISO 2969 are the relevant documents for what's called a dubbing stage for cinema release.
Dubbing stages are typically rooms the size of a cinema, with carefully set up and tuned sound and picture systems. There are other standards, although perhaps less clearly defined at present, for mixing in smaller rooms for home video release. If a program originates in a cinema format, it may later go through an adaptation process for home video. This is sometimes called "re-mixing," although that implies a level of effort commensurate with the original mix that is usually not the case. It's not necessary to start from the ground up; a few fairly standard adaptations are applied to make sure the intent of the cinema format is conveyed on home video.
That doesn't mean our job as integrators is easy. It's still plenty challenging to stay up to date on the latest mix room standards and understand how these translate to our design and engineering process for home cinemas.
Unfortunately, we can't just straight-up copy and shrink the design of a dubbing stage, because the psycho-acoustics don't translate right. Also, the recommended practices for home cinema from big names like Dolby are aimed at the much larger market of enthusiasts who buy a sound bar or some speakers and an AVR online to set around their living rooms. Those don't really work for us, either, as we implement dedicated rooms that are more like small cinemas.
CEDIA has worked very hard to draft recommended practices that are aimed at residential integrators. They are like the SMPTE 202 and ISO 2969 for us. CEDIA lists these practices in its CEB22 document. (There is also a CEB23 for the video side.) That's your best resource at present.
From time to time, we probably all fancy ourselves as sound designers, with the ultimate control over what gets heard. But that's not our lot. We are the curators of an immersive space for experiencing the creative works of award-winning film makers.
Everyone is an essential piece of the puzzle; we all need to know everything there is to know about our piece, but it also helps to know a bit about what everyone else is doing so we don't end up trying to do someone else's job!
ADVERTISEMENT

ADVERTISEMENT
ADVERTISEMENT

ADVERTISEMENT