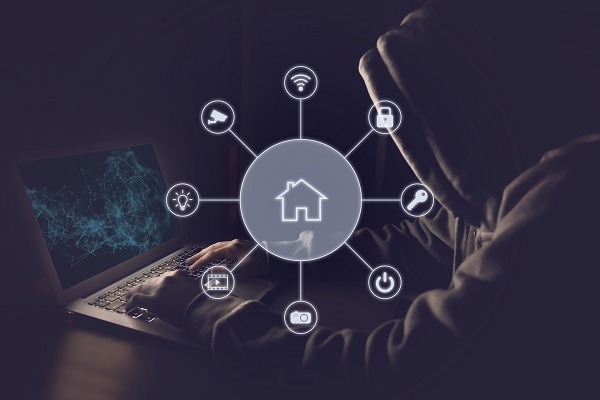 The Internet of Things makes it possible to enhance our homes like never before. But that can be both a blessing and a curse when it comes to insurance. Anna Hayes found out more.
The Internet of Things (IoT) is a vastly growing area with analysts (Gartner) predicting that up to 25 billion such devices will be in operation across the world by next year.
With such a prevalence of devices in the home, the potential for opportunistic hackers to gain access to your network is greater than ever.
Many smart homes are at risk due to very simple issues, according to McAfee's Alex Merton McCann.
Alex, a consumer online safety expert with the company, says that simple passwords and default security settings are the biggest risk to the smart home. McAfee recently discovered insecure design in an access product where the access point could be cloned and used to gain access to a home.
"Many smart devices aren't built with security as a priority and are therefore vulnerable by design," says Alex, pointing out that creating complex, unique passwords as well as the option for two-factor authentication can help in securing a smart home.
"Just one vulnerable device could allow a hacker to gain access to the home's whole network of devices. A way to avoid compromising the security of the entire smart home is by having security software working at the router level."
He encourages research before installing certain products to explore the product's security record.
"When making the decision to install smart home products, people are often preoccupied with the prospects of convenience, efficiency or even novelty. And so, any consideration of security generally falls to the wayside. The unfortunate truth is that not all devices are created equal in respect of security."
On the other hand, while smart home data can cause great damage in the wrong hands, there are other areas where it may prove not only useful, but beneficial to the home owner as well.
None of us likes paying for insurance – be it home, motor, health or otherwise – but what if you could pay a premium based on data-driven analysis of your risk?
Most insurers will look more favourably on the house with an alarm system than the one without.
Insurance Council of Australia manager of communications and public relations Lisa Kable says: "Security alarms can be an effective deterrent, many insurers will consider this technology when calculating the cost of a home and contents policy and offer a premium reduction."
The same cannot be said for smart tech devices – think security cameras, sensor lights, video doorbells, to name but a few.
"Even without a premium reduction for smart tech, it may be a good idea to have a smart tech device installed if it has the potential to contribute to the overall safety of a home and its occupants."
So, while always developing and adding features, what does a relatively antiquated concept as a house alarm have over the latest smart home technology?
Lisa explains: "An important question to ask is does the technology prevent a situation from occurring rather than warning or capturing the details of a situation?"
She points out that while dash cams can assist insurance claims with video evidence of incidents, using one will not result in a premium reduction in Australia because they do not prevent an event from happening. The same, she says, may be the case with some smart home devices.
And a compromise of those devices could end up costing you in the long run, with insurers potentially refusing to pay claims if they determine that due care was not exercised to protect personal information or property. Furthermore, it could also result in a higher premium when it comes to renewal time.
That said, the question of IoT security and the implications for home insurance is a relatively new discussion and Lisa says that the industry is monitoring the growth of smart homes to determine the practical implications of in-home smart technology use.
A recent study, 'Insurance in the age of instinct', carried out by Genpact, explored the impact that IoT devices can have on the insurance industry, making a case for optimised reality and whole system planning that can shape the future of the insurance industry and allow insurers to tailor products and services to the individual customer.
Genpact vice president of insurance for ANZ and Asia Steven Raynor points out that research and development in IoT is a very niche space but he believes that, in a digital world, data is paramount to managing risk effectively.
"The data generated from IoT devices provides a momentous opportunity for insurers to better understand how assets are being used in the field, and thus intuitively predict risk, anticipate behaviours and drive new kinds of insurance products that are responsive, personal and agile."
Data from IoT sensors, he says, is likely to complement the 'rewards for less claims' approach that insurers generally take, with increased visibility of individual risk profiles ensuring that premiums are tailored to each consumer's behaviour.
He points out that even though the incorporation of such devices in residential and commercial spaces is still in its early stages in Australia, many insurers are already investing in this area, particularly in partnerships with insurtech specialists.
"There is an increasing number of insurtechs working with insurers to improve the customer experience for their policy holders, including proactively informing policy holders about weather events that may be coming their way."
The availability of IoT data, he says, could allow insurers to more accurately assess every individual's risk profile by producing a micro-segmentation of their customer base which would then allow them to create tailored products and services for these groups. Steven points to motor vehicle insurance as an example – a vehicle has fixed specifications and storage address, and even driver demographics. But the way each driver uses the vehicle can differ and this, he says, is where IoT can provide a more accurate risk profile for a vehicle. The same can apply to home and other types of insurance.
Steven admits that there are security and privacy risks if data is not properly secured but says that insurers have a role to work with authorities to help combat this.
"Robust cybersecurity and data protection are vital to mitigate this risk and essential to driving greater consumer adoption. It will be important for insurers and insurtech providers to collaborate with IoT device manufacturers, and ensure that devices are built with a security-by-design approach."
He adds that collaboration between insurance companies and device manufacturers will be important to drive changes on how premiums are applied in the future, with regulators and industry bodies also having a role to play in driving change through innovation and collaboration.
"The adoption of IoT devices has the ability to change premium rates from an annual premium to a premium model based on usage.
"In the end, consumers and policyholders must weigh the benefits of sharing their 'connected' data with insurers against the perceived risks of privacy. The benefits may take the form of premium reduction or other services involving safety or convenience."