When 'out with the old' is a tricky fix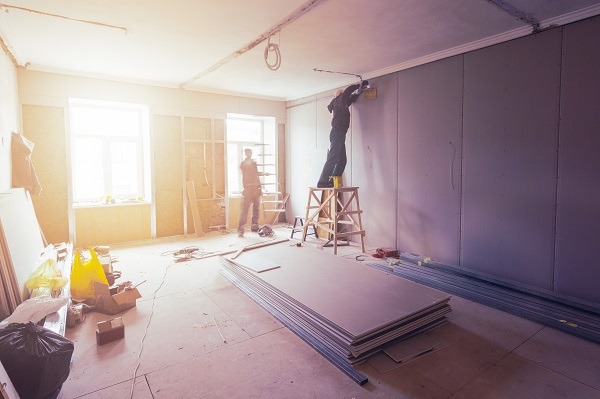 Designing a smart home from the ground up is the ideal for all integrators. But what happens when the home and its various structures already exist? Anna Hayes takes a look at the challenges around retrofit installations.
It's morning and you're sleeping deeply but, ever so slowly, light starts to creep into your bedroom – it increases as the minutes go by and at a certain level the blinds on your windows also begin to rise, maybe accompanied by some ambient sound or a voice telling you it's time to get up.
It seems relatively simple but, in a true smart home, nothing is left to chance, everything is by design.
That aspect of design and certainty is particularly pertinent when it comes to diving into the retrofit market, an area that poses serious challenges for cable-pulling perfectionist integrators.
However, it's also a market that looks set to grow in the future and, as such, is rife for development in terms of products and approach.
From the ground up
For the majority of integrators, new builds are both the bread-and-butter of their operation, but also the preferred project as they can be involved in the process from early on and make recommendations on what's needed structurally for the proposed technology for the home.
But the past 12 to 18 months have changed many things and for Queensland-based integrator Damian Cavanagh, managing director of Electronic Living, there has been a shift in the type of business coming his way.
Pre-pandemic, 90% of Damian's business came from new build projects but the disruption caused in the last 18 months, particularly in the area of travel, has seen people change focus to the homes they live in.
"We have had a population that is spending more time at home than ever which has ignited a significant increase in retrofit projects as residents look to make their home more comfortable, safe and entertaining," he says.
"As a result, the current ratio has changed to four retrofit projects for every ten new builds."
In New Zealand, where restrictions were probably as stringent as parts of Australia but didn't go on for as long, Brendon Reid of Automation Associates Limited sees about 50% of his business come from the retrofit market though he admits that the figure changes over the various decades.
A common factor again though is that inability of people to travel overseas.
"We have a mile of upgrades going on at the moment. With international travel difficult, our clients are spending on improving their home environments – basically anything we put in front of them is getting snapped up."
Other companies go through various ups and downs in this side of the market, though primarily retrofits are a tough sell.
Bridger Automation managing director Mark Bridger says that when he first started his company, he had a more even split between new builds and retrofits but with growth and branding they had moved into the position to be able to pick and choose and specialise in new design/custom builds.
"We are fortunate that 90% of all our projects are new builds in the luxury home market, where we can deliver a 'turnkey' solution in-house for all automation, AV and electrical services."
At Argus Technologies, the preference is for a new build.
Managing director Robert Urpis says: "The majority of our work comes in new builds. We do retrofit projects but, depending on what we're trying to retrofit into the home, they tend to be a bit more challenging."
Of course, where a new build is a more straightforward operation for the most part, retrofits can throw any number of challenges at an integrator depending on the type of project it is.
Sandy Howard, managing director of AVD Australia, says they see two kinds of projects come their way – one where they are asked to find technology to fit the scope of existing works, and others whereby the client is tying a construction job into the mix.
In the case of the former, Sandy says they try to avoid those jobs: "I think if you head away from truly connected or wired devices, you tend to have problems."
His colleague, master systems integrator Michael Robinson adds that in many cases, their clients are undertaking maybe hundreds of thousands of dollars' worth of work and will strip out the inside of their home.
"It may not be a flattened, complete rebuild but a lot of the houses we get, when we start with them, they're just a skeleton of the house."
Networking not working
In many respects, the retrofit market has been widely populated with wireless solutions, including a large quantity of off-the-shelf products that can bring a multitude of their own problems to the prospective user.
It's no surprise then that among the key challenges for integrators when it comes to retrofitting is the desire to avoid using a wireless solution or, if you have to, to ensure that it's working on a reliable and robust network connection.
Argus's Robert stresses the importance of the network and the many ways in which it can be affected in a space.
"If you're using WiFi products, the underlying bones or the structure of the home has to be solid. So, we'll go in and see what the customer has, see if it's sufficient or if we need to upgrade it, and that's our minimum criteria."
Dean Belton, the company's senior project manager agrees, adding that the structure of the building is also a factor.
"Older homes with solid brick or concrete walls are WiFi killers so you've got to look for other opportunities: can we run cabling into these homes; what's the access like under the floor or in the roof, down the walls, etc? Those are the kind of solutions we can help to provide."
Damian agrees, pointing to cable accessibility and wireless as the biggest challenges as it can be difficult and expensive to install the required cabling to facilitate an installation.
"A wired solution is always the preferred and recommended solution, therefore in a retrofit installation it can become a labour-intensive exercise to produce the desired outcome with a wired solution."
On the other hand, wireless can be fickle, with external factors affecting the wireless transmission between devices. A site audit and pre-testing is used in this case to determine where and how many wireless access points are required to provide coverage.
"This can save countless hours of reactive trial and error at the end of the project and avoid last-minute uncovering of WiFi black spots."
For the team at AVD Australia, cable is king and, in all likelihood, if a job can't be cabled they likely won't take it on.
Sandy says: "In a retrofit environment, if we're told we can't run cables, patch walls, cut holes in ceilings and that type of thing then it's very unlikely we'll do it. We don't like to use untried and untested technology or even technology that claims to do something. There are no short cuts."
Managing expectations
While having a good working relationship with a client is tantamount to the success of any installation job, it's perhaps even more important in the case of a retrofit because the situation is so unpredictable and changeable.
In many respects, managing the client is almost as much a part of the job as the work itself.
"With new clients, telling them that a figure is variable, and we will take as long as it takes to do a good job can be a lump to swallow if we haven't worked together before and built up some trust with them," says Brendon who has adopted some terminology from architect friends.
"The term 'discovery' means 'we don't know what we don't know and when we get into it, we might discover a hassle'. We put a label on this unknown quantity and that seems to make it more acceptable."
The 'unknown' is the enemy in any project and Mark says the impact of same can affect a project in terms of workload and, as a result, cost.
"Labour cost can be easily inflated by unseen rectification works. With cabling access, it can appear to be an achievable task to get cabling from one point to another, until you actually start and soon become aware that it is not as straightforward as it initially appeared. These types of challenges and setbacks can be very costly."
In a similar vein, and this happens with new builds too, you can have clients who turn up late to the party having thought through and planned the rest of a job but neglected to consider technology needs.
Michael explains: "In retrofit, in terms of renovation, clients often forget that they need to think about this from the outset, much like they consider the layout of the house."
In some cases, clients haven't allocated a budget for technology which can make for an even bigger battle.
The DIY market also plays a role here, according to Rob, who says that people often think beyond what a certain product can achieve.
"Sometimes we'll walk in, and a customer will be saying they want to use a certain product to achieve a certain outcome. And we'll have to do away with that and start again, and sometimes they don't like hearing that because you're almost saying that they've made a bad choice. So, it's about knowing what the customer's expectations are and what they want to achieve."
Thinking outside the box
Retrofit projects then are all about adapting to the problems that arise and thinking outside the box for solutions.
And it's not just about finding a connectivity solution or a product to slot into the system in play – sometimes it's about the aesthetics around that, it's about what you can't do as opposed to what you can.
Damian recalls one such project where the home did not have any wall cavity in which to run cabling but the client did not want any surface mounted conduits. Electronic Living instead installed custom fabricated architrave mouldings which concealed the internal cabling infrastructure and completely matched the home interior décor.
"It was a completely wired solution that negated the need to look for an alternative less-desirable wireless solution."
The team has also recently completed a retrofit installation of a motorised TV in a master bedroom where the ceiling joists ran in the opposite direction to what was needed.
"The only practical way we could install a solution would be to align the custom unit to fit within with the existing joists, then have it descend and rotate 90° to face the desired position. The end-result is amazing and provides a completely discreet solution without the costly exercise of re- engineering and constructing the ceiling and roof trusses to accommodate a standard ceiling lift solution."
In Sydney, AVD took on the job a large waterfront apartment where the owner had some basic technology in place but no plans or documentation, etc. The first job was to draw up comprehensive plans of everything that was installed in the house to look at what potential options they had for retrofitting.
All AV and communications equipment was originally housed in cabinets at the entryway which the team looked to move out of sight.
"We ended up building a space in the ceiling. The client was on the top floor and the space up there was only about 1500mm high. We put all of our rack systems up there – about one-and-a-half racks' worth of devices completely removed from the apartment downstairs," Sandy says.
The project involved no renovation work which made the project difficult as nothing could be moved to facilitate the project.
"We had to access cabling in locations that you just couldn't access it. We had to use existing conduit which, fortunately, because we had the roof above some of the conduits went to the ceiling space where we could pull cables out and then replace them."
Shiny new things
As we've acknowledged previously, a fully functioning smart home is a thing of wonder but in recent years, there has been a commoditisation of this sector as companies have jumped into the space with consumer-grade products, appealing to apartment dwellers, tech hobbyists and others who are dipping their toe in the smart home space.
Having an Alexa turn on your music or your light bulb is a neat trick but it's not exactly smart. But it is how many are experiencing smart home technology today and that opening of the conversation is welcome amongst the professionals.
Damian says that countless companies are catering for retrofit technology solutions, mainly based on wireless infrastructure, and directed towards tech savvy customers for a modest price point.
While he believes that some offer good 'value for money' for the average DIYer, they more often than not fall short in quality and reliability, not to mention in the area of scalability and integration within a smart home ecosystem.
"The wonderful thing about these products is they are introducing an entire new generation of end-users to the many benefits a smart home brings to our modern way of living. Many of these users will eventually outgrow the capabilities of these systems as their needs change and expand. This will lead to a thirst for something more, leading this consumer to more advanced products which traditionally will be more of a premium hard-wired, scalable and more integrated style solution."
Argus Technologies also sees the DIY space as something of a marketing exercise as consumers chase functionality that isn't possible from an off-the-shelf product.
Rob says: "For us, if consumers are stepping into the automation space, even with DIY products, it's a good thing because it's making them aware that there are products out there. It also encourages people to go and Google this space to see what else they can do. And hopefully that's when they come and knock on our door."
However, James worries about those who research too far into products and potentially do more damage than good with an installation.
"I see a lot of forums with demonstrations from America where the general consensus is that a person can install a product themselves. That makes it quite scary if it filters through to here and people start doing their own electrical work – it will be a bit of a worry in the future, I think. It could be a headache for us – we could be called to fix it, which is good, but then we might not want to touch it either."
Michael points out that bigger manufacturers are delving into this space as well, taking advantage of IP-based technology to offer something more in the retrofit market as well as the retrospective upgrades market.
"A lot of technology from big manufacturers now is moving from a more conventional bus type system or the daisy chain connection systems to using IP-based technology for video distribution and audio distribution. They're building IP connected amplifiers and TV boxes and all the rest so a lot is being addressed by manufacturers because they can see that retrofit market."
He adds that a lot of start-ups are developing wireless solutions because there is an existing product that they can latch onto and it is low risk, they don't need to build a separate infrastructure on which to exist.
So, whether it's wired or wireless, big or small, the sheer volume of tech going into people's houses in the present day makes future retrofit and upgrade jobs inevitable as people strive to keep up with the latest trends.
It will be an interesting area to watch in the future.