Westan wows with new TV tech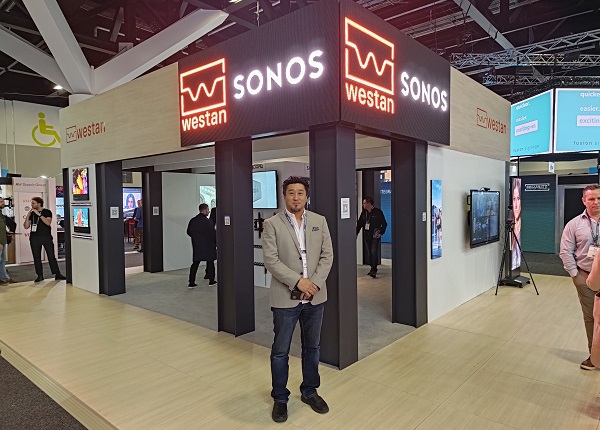 If you spent any time at Integrate you'd have likely noticed Westan's head of product, Richie Cheng, who seemed to both meet everyone at the show and somehow find time to deliver Tech Talks too!
He explained: "We're here to represent the key vendors that we have on the market and to showcase the wonderful products that we have, that we've introduced over the past few years. We haven't been able to showcase them before due to COVID… we're also here to meet with and catch-up with other companies."
Richie told us that they'd brought Sonos onboard about a year ago but that, in addition to pushing the well-known consumer audio devices, they were ensuring the industry became more aware of its commercial products.
Another key Westan partner was Philips, which Westan had given its own dedicated stand, opposite. Richie said: "We work under the banner of PPDS – Philips Professional Display Solutions. We are a master distributor of Philips Pro TVs but we also do their signage. One of the biggest game changer products here is a hotel TV which has Chromecast and Netflix built-in – which is unique to us."
He added that the product's personalised messaging and interactivity meant: "It's not just for hospitality, but for health, education, places like mining camps and, especially, aged care."
The other partner Westan wanted to show off was Aurora Signage – an 'Australian Made' display company that Westan itself had invested in. While there were many impressive LED displays on show, Aurora's had one of the largest with a very-high, pixel density. More than that, it had turned its displays in to gargantuan Android TVs and was contemplating selling them. The early models had soundbars attached, but they were purely for demonstration purposes. Few people weren't impressed. Hopefully, this acts as a proof of concept for huge, 4K TVs that can be used both indoors and outdoors.
Managing director, Matt Vawser, told us that the exterior TV was 165" but they could build from 120" to 220". Prices hadn't yet been contemplated, but it was agreed they'd certainly be much cheaper than the super-niche giant options from the main manufacturers.
Matt stressed that it was important to use high-quality diodes with embedded chips and high pixel densities as they didn't just producer a better image but reduced solder points which were the most common point of failures. He added: "This creates a much more reliable package and I think this is where we're going to really start seeing similar products start coming forward."
Richie concluded: "Overall, our message is that Westan is more than just a box pusher. We're more about solutions and how to assess customers before piecing together the right package – with all these different technologies… so we're a little bit different to the traditional distributor."
ADVERTISEMENT

ADVERTISEMENT
ADVERTISEMENT

ADVERTISEMENT