Wellness: The sleeping giant

Integrators can now position themselves at the forefront of the residential wellness technology sector. Paul Skelton reports.
A United States government agency has found that the state of our health is at least 70% determined by social and physical environments.
This statistic from the Centres for Disease Control and Prevention (CDC) shows that the way we feel and act is directly dependent on our surroundings.
Further, the CDC says modern-day people spend about 90% of their time indoors, which suggests that the built environment may be one of the largest contributors to health and well-being.
The spaces in which we sleep, work and relax have the potential to influence our health in major ways. So, isn't it time to stop thinking of these spaces as no more than walls and roofs?
Bill of health
According to the CDC, Australia spends about $A2.8 billion on disease prevention each year, or $125 per person. This equates to 1.34% of all health spending and is substantially less than that spent in Canada, the US, the United Kingdom and New Zealand.
Further, many diseases arise from a lifetime of unhealthy behaviour and are often caused by modifiable forces.
Chronic conditions such as heart disease, stroke, lung disease and Type 2 diabetes are becoming more common in Australia.
According to the 2014-2015 National Health Survey, one in two adult Australians have at least one prominent chronic condition (eg: asthma, back pain, cancer, cardiovascular disease or diabetes). Of this population, 5.3 million had two or more conditions. Three in five adult Australians are overweight.
Chronic diseases are responsible for 83% of all premature deaths in Australia and 66% of the burden of disease.
According to the white paper Investing in Human Health issued by the global wellness pioneer Delos, preventive health interventions can promote health and reduce overall healthcare costs by changing the need for expensive treatments.
Down to business
Delos was formed in 2008 by Paul Scialla, who was a Wall Street trader.
"Paul was doing a lot of research in the building space and noticed a trend around sustainability and green rating systems," Delos Australia managing director Anthony Scarff says.
"One day it dawned on him – what about sustainability from a holistic point of view? Who is looking after the people inside the building?
"We worry about energy usage, recycling, etc, but who but who is addressing the air quality, water quality, lighting design and other factors that affect the health, wellness and productivity of people?"
That thinking started a seven-year journey of research into the commercial wellness space.
"Paul brought two types of expert together: building experts and health professionals.
"He posed the question to these people: 'If money was no object, what would you do to make sure the people inside a building were as healthy as possible?'
"They started diving into research on indoor air quality, blue light versus yellow light and the quality of water."
Delos Australia president Bill Giannikos says the result was an ecosystem tailored around the dynamics of human optimisation.
"Things like mindfulness, connectivity of spaces, nutrition, air, light and water.
"This led to the invention of the WELL Building Standard (WELL) and the International WELL Building Institute that delivers it. WELL incorporates a range of elements that include air, water, thermal comfort, acoustics, nutrition, light and mindfulness.
"Back in 2009, mindfulness wasn't something that was commonly considered. People weren't thinking about their mental state. Delos bucked this trend by asking how an environment can influence someone's mental state.
"In doing so, they attracted corporate clients who could monetise the benefits of having happier people in a work environment."
Anthony says WELL could help address absenteeism, employee turnover and the like.
Delos started to work with the likes of the Mayo Clinic, Cleveland Clinic and Harvard Sleep School to further research on how to optimise work environments.
"Currently there are over 1,600 WELL projects in 50 countries, equating to almost 30 million square metres of space."
The first WELL building appeared in Australia in 2017.
"The result of this is that people are becoming far more aware of their environment, and employers are becoming far more aware of the fact that they need to provide a safe and healthy environment for employees.
"That's got its own wind now, and it's taking off."
Continuing the research
The company, in partnership with the Mayo Clinic, began investigating how various indoor environments impacted the well-being of occupants.
The collaborators launched the Well Living Lab in Rochester, Minnesota, which included staged bedrooms, hotel suites and offices.
"What they did was, in a very controlled environment, studied how light and other factors could be adjusted in an environment and the impacts of those adjustments to the human condition."
Anthony says that in Australia, people spend about 90% of their time indoors.
Home is where the health is
In 2016, Delos turned its attention to the home.
"The air quality inside a house is up to five times worse than it is outdoors, so it's a very real concern. Further, houses are being built with energy efficiency in mind and they're completely airtight," Anthony says.
In recent times, airtightness has emerged as the Holy Grail of energy-efficient homes, yet it can play havoc as far as health is concerned.
Anthony says air quality in the home is a real challenge.
"One in nine Australians has asthma, and we can't even list the number of people who have allergies to pollens, dust and pet dander, or hay fever."
According to the Investing in Human Health white paper, air pollution is one of the greatest concerns of our generation.
"In Australia, air pollution is estimated to contribute to approximately 3,000 premature deaths every year, and is a major cause of non-communicable diseases.
"In 2015, air pollution globally was responsible for 19% of all cardiovascular deaths, 24% of all deaths caused by ischemic heart disease, 21% of all stroke deaths and 23% of all lung cancer deaths.
"Household air pollution, specifically, is among the top five environmental health risks around the globe.
"The World Health Organization estimates that 3.8 million premature deaths from non-communicable diseases – including stroke, ischemic heart disease, chronic obstructive pulmonary disease and lung cancer – are due to exposure to household air pollution.
"It is estimated that 50% of premature deaths due to pneumonia in children under five years old are caused by inhalation of household air pollutants.
"Research suggests that concentrations of toxins, allergens and other pollutants can be two to five times higher indoors than they are outside. However, Australia currently has no specific controls or regulations for indoor air."
The CSIRO estimates that the cost of poor indoor air quality to Australia's economy is as high as $12 billion a year.
To combat all of this, Anthony says, Delos has introduced DARWIN Home Wellness Intelligence, which works on the three pillars of air, light and water.
"By intervening in those three areas we're setting up for a better day and a better night's sleep, which all affects your overall health.
"DARWIN includes air quality sensors that are mounted passively around the home. They monitor CO2 levels in the home, looking at particles down to 2.5 microns, and check for volatile organic compounds.
"We also put air filters into the homes HVAC system, including a particle filter that pulls out particles down to one micron.
"When you don't have a filter in the house your lungs become the filter.
"If the sensor detects the air quality falling outside the safe zone, our hub will then turn the fan on in the home's HVAC system."
The DARWIN network uses a MERV8 filter and activated carbon to achieve and maintain indoor air quality.
The DARWIN network also eliminates unwanted odours, which can improve mood, reduce stress, lower heart rate and improve overall well-being.
Bill says DARWIN is capable of two to six air exchanges per hour.
"If you had a contaminant in the kitchen, it would take five to 10 minutes to clear, depending on the type of contaminant and the volume of the space.
"That said, you would also get instant relief because the contaminant is already being drawn away. The system would actually 'see' the pathogen and turn on straight away.
"It's constantly monitoring, taking a sample of the air every six seconds. Because the home's positively pressured, it reacts very quickly."
Water, water everywhere
In addition to air filtration, the DARWIN offering includes extensive water filtration capabilities.
"Water in Australia is beautiful," Anthony says.
"It falls in the mountains just off the Southern Ocean, perfectly clear, but then it goes through dams and into infrastructure made up of copper, terracotta and lead pipes
"By the time it gets to you, it has picked up a lot of different sediments and particles.
"It may have even picked up some heavy metals on the way, and infrastructure managers add chlorine. It's great for keeping the water clean but it's not great for washing in or drinking.
"From a health and wellness perspective, you need clean water. It's directly related to positive brain function. If you're dehydrated, you're not thinking straight."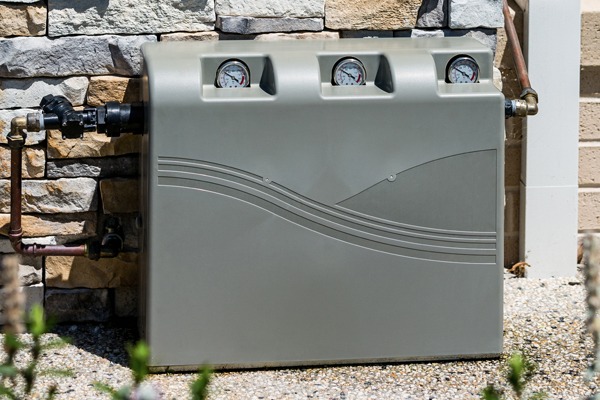 When ingested, contaminated water can affect many aspects of the body, including digestive, cardiovascular, respiratory, nervous, urinary and integumentary (skin and appendages) systems.
Contamination can also mean viruses, bacteria and parasites that can lead to waterborne diseases with symptoms such as diarrhoea, abdominal discomfort, vomiting, fever and headache.
Further, agricultural contaminants such as pesticides and fertilisers regularly trickle into streams and leach into groundwater, making their way into drinking water. In high doses, these contaminants can cause serious health effects, including cancer.
"To make a 'well home' we also want to filter the water supply," Anthony says.
"Our system stops water on its way into the home and filters it so that every tap has filtered water going through it.
"Water is drawn through a particle filter, a carbon filter that removes chlorine, and a heavy-metal filter."
Making light work of sleep
The final two 'pillars' of the DARWIN network are lighting and sleep, which very much go hand in hand.
Anthony says a lot of research is coming out on the effect of blue light on our ability to metabolise food, our behaviour, our performance and our ability to get to sleep at night.
"We're diurnal. We're meant to be up during the day, running around, chasing our lunch. Blue light energises us, but then towards the end of the day the sun starts to head to the horizon and emits a yellow light that helps our bodies prepare for a restful night of sleep.
"Sit in front of your TV at 10.30pm, or check your phone, and it will disrupt your melatonin and ultimately impact your evening sleep."
The CDC states that sleep deprivation is a public health concern. Further, nearly all mood and anxiety disorders are co-morbid with sleep disruption.
Bill says that once our melatonin is disrupted with blue light it takes another hour to start developing the right levels for sleep – and for suppressing serotonin, which is what makes us active during the day.
"And a lack of sleep, or actual insomnia, can lead to depression, heart disease or diabetes."
The human body is naturally programmed to function on a cycle that matches the solar day. Known as the circadian rhythm, this 'clock' is synchronised by light and controls many aspects of our physiology, metabolism and behaviour, including the sleep-wake cycle.
Multiple body functions, including sleep and digestion, are regulated in part by the daily hormonal fluctuations prompted by internal circadian clocks.
Melatonin, a hormone produced by the brain, plays an important role in the regulation of the sleep-wake cycle. Its production starts to increase in the evening, allowing us to fall asleep, peaks in the middle of the night, then rapidly declines in the morning, allowing us to wake up.
Exposure to blue light or bright light before bedtime can suppress the release of melatonin, which can delay sleep onset and shorten sleep duration. Conversely, exposure to blue-enriched bright white light in the morning can have an energising effect.
For this reason, the DARWIN network relies on a dynamic lighting system that can simulate natural sunlight indoors to help maintain healthy circadian rhythms and improve energy, mood and productivity.
Calibrated to the home's location, the system is programmed to deliver lighting conditions based on the time of day.
"The most exciting intervention made by the DARWIN network is light," Anthony says.
"To address the biggest concerns, Delos has created a smart downlight that is WiFi enabled and completely tunable. The light comprises 48 LEDs – 20 cool white and 20 warm white."
The DARWIN network is programmed to promote a natural transition into sleep in the evening, minimising light pollution throughout the night and enhancing the transition from sleep to wakefulness.
Healthy, wealthy and wise
When it comes to health problems, Australians increasingly look for preventive measures.
According to Victoria's chief health officer, Dr Brett Sutton, preventing illness and improving health and wellbeing is a major challenge requiring specific action and a collective effort.
"Achieving sustained reductions in the growth of preventable chronic diseases and creating lasting improvements in the health and wellbeing of people and communities requires co-ordinated, responsive and sustainable action at individual, community and societal levels, led by many players."
Better yet, DARWIN can be integrated into existing smart home systems including Crestron, with other systems to be integrated in the near future.