WALL-SMART puts Microsoft Surface Go 2 under lock and key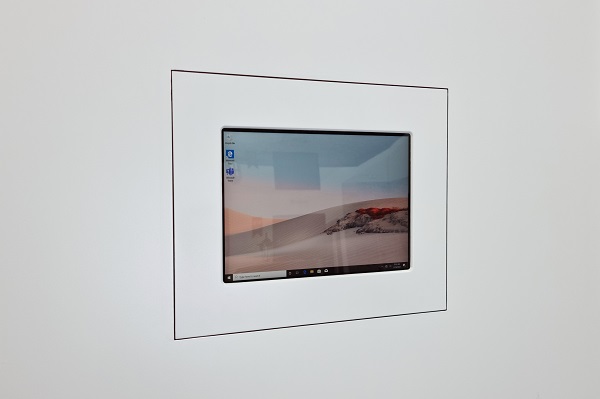 Touchscreens in commercial facilities need to be in easily accessible places while also being secure.
A specially engineered adaptor from WALL-SMART will securely mount the Microsoft Surface Go 2, flush within drywall and also prevent theft and tampering.
The touchscreen locks firmly into the adapter where it can be used to control the lights, music, temperature and other facets of a commercial environment, display images captured by surveillance cameras, and provide access to relevant information.
Should the tablet need to be removed for mobile use or service, holding a specially engineered smart key to the right side of the mount's door cover electronically unlocks the device. The touchscreen can be easily inserted and locked into place when finished.
The mount comes with a paintable trim panel that beautifully frames the in-wall touchscreen, making it look like a natural part of the surrounding surface.
The WALL-SMART In-Wall Adapter for Microsoft Surface Go 2 Touchscreen is engineered and designed to be installed in drywall during construction. The installation is similar to other drywall construction procedures and requires no additional tools.
ADVERTISEMENT

ADVERTISEMENT
ADVERTISEMENT

ADVERTISEMENT