Wake up and smell the…well…everything!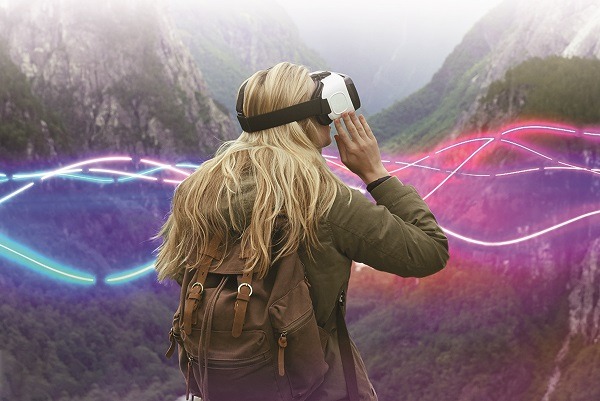 AV technology is evolving to the point whereby we don't just watch our chosen content, we experience and live it. One company is taking this idea to the next level, bringing smell into the equation. Anna Hayes found out more about Scentscape.
How many times have you watched a cookery show on TV, mouth-watering at the sight of some of the dishes being served up?
While we might be a little while away from being able to taste the food from our TV – although let's all hope that Roald Dahl was onto something with that little daydream – one US company has developed a device that will let you smell it.
Yes, you'll be able to get a whiff of that langoustine with smoked enokis and lardo, or drool over the aroma of an Aberdeen Angus rib-eye, with mushroom puree and beef tea…
Or maybe, just maybe, a KFC ad will come on the TV and you'll be hot-footing it the drive-through for a late-night snack.
The point is, Hypnos Virtual's Scentscape isn't just designed to make you hungry, it's designed to enhance your every media interaction.
From small things…
Hypnos Virtual (as it is now) was founded in 2013 by Mike 'Kaz' Kaczkowski as a company within his R&D entity, Kaczkowski, Inc.
Prior to this, Mike had followed a colourful career that saw him turn his hand to a host of different disciplines including art and electronics.
Mike explains: "I had been making virtual/simulation-type environments going back to childhood in the 1970s when I would take the electronics out of toys and other devices and use them to control and create environments that would be triggered by human motion and action."
In the early 1980s, he worked with the Apple II and Commodore 64, making serial port output triggers which progressed to, by the end of that decade, making more complex machines as functional artwork that simulated nature elements such as water and natural essences.
Mike stresses that this was 'virtual reality' before the more concrete present day 'VR' terminology which generally alludes to the use of head-mounted displays (HMD).
In 1991, Mike created the world's first bio-virtual reality machine which emitted wind, forest bio-aromas, and natural sound within 3D stereography. It was a coin activated unit that provided an auto-timed bio-virtual nature experience.
However, shortly after, Mike says his simulation machines hit a 'technology wall' and his thoughts turned to a different type of simulation – prosthetic skin and eye technology.
From 1995 to 2013, Mike worked tirelessly in this area, creating multiple unique prosthetic and alloplastic technologies, and building business and clinics around these technologies; his work even brought him to the FBI where he contributed to the improvement of biometric fingerprint scanning technology.
At this stage, Mike's thoughts began to turn back toward his earlier objective of bio-media, and the impetus to start working toward that grew from a trip to Bali where he met Jack Canfield, an American author, motivational speaker, corporate trainer, and entrepreneur.
"By the time 2013 rolled around, computer technology had proliferated and reached a point that had me interested in going back to creating nature simulation on demand so that it could be enjoyed anytime at the push of a button for anyone, anywhere," he says.
"Being in Bali and meditating with Jack Canfield brought a spiritual connection and stillness of mind where my early passions, that were not yet fully realised due to the then limitations of technology, could now be re-ignited."
Mike wanted to create the ability for true bio-immersion.
By the Bio
This industry is no stranger to the 'bio' prefix – biophilia is one of the fastest growing and most interesting areas of technology coming to the forefront these days. Biophilia focuses on linking people to their natural surroundings through technology.
Bio-immersion takes this idea even further – it is creating the feeling that one has literally been bio-teleported somewhere in nature while still inside the protected world run by technology.
Mike explains that the technology is not just about smell as that's just a small part of what's experienced by the brain when exposed to nature.
"Nature and human beings are not separate; we are nature, we are part of nature, and thus, just as trees speak to each other through terpene emission in the forest atmosphere and through the 'neural net' of the forest floor, the bio-media airstream directly communicates to our brains, uplifting mood and modulating perception at the speed of life via the nervous system."
Fitting then, given that example, that bio-media is also green tech.
What's that smell?
So, bearing all of that in mind, what is Scentscape and how does it work?
The good news is that the technology is cross-platform – you can connect it up to a VR headset to complement your experience or set it up with your TV for the aforementioned cooking show enhancement, the smell of a sandy outcrop if you're too impatient to wait for 'Dune' in the cinema, or a guess at the clinical smell of space in 'Star Wars'.
Probably recommend giving it a miss on 'Squid Game' though…
Bio-media is made up of nature's molecules which are then emitted through the Scentscape device.
"Our device emits these bio-molecules in our cold-diffusion technology, not by vaping or other forms of burning. So, it's just as real as smelling a rose or walking in the forest – it's actual, digitally controlled nature."
The company employs 'scent poets' who use natural ingredients in computer-controlled abilities to make all kinds of aromas – literally millions of combinations.
And there is plenty of scope for Scentscape to find its way into your workplace, living room and beyond.
Mike explains: "There are several ways it works but one way is that a bio-media Scentrac is pre-written for the media. Another way is that the future customers make their own Scentracs through our software, and another is through AI detection of imagery and audio where self-generated bio-media is made."
He has also engaged with physicians and the health authorities in the US in relation to developing a clinical version of the device for physician-managed therapeutic applications such as stress reduction, SAD treatment, and other condition where mood uplift and brainwave modulation has therapeutic benefits.
As ubiquitous as your TV?
Now that the tech is built, tested, and making us all feel hungry, excited, and hungry again, one of the big questions is: how do we get a hold of it?
Mike says that, at present, they are working on the infrastructure required to rollout to integrators in a bid to get the Scentscape into homes and businesses across the world.
"As a metaverse tech start-up, we plan on bringing these green-tech devices to integrators for introduction into the consumer market."
He expects home theatre and wellness enthusiasts, as well as corporate clients, to be among the early adopters of the tech, facilitated through experienced sales and installation integration companies.
"We are still pre-market for this step because we are working on economy of scale manufacturing and infrastructure setup; however, we are able to sell models to integrators for clients willing to have custom-built pre-market units that have full functionality."
He adds that the technology is scalable and modulated, meaning they can be made in any size, with any function desired. The Premium Cinema model covers all functions and is smaller than a hotel mini fridge but other models, such as nature units for well spaces or flower garden units, are the size of a kitchen blender.
The only question remaining is: in the iconic scene when Homer Simpson refers to himself as a "warm cinnamon bun", will we get a whiff of a slept-in bed, or the cinnamon bun in question?
Well, I guess there's only one way to find out…