ViewSonic wowed with global launch of folding LED screen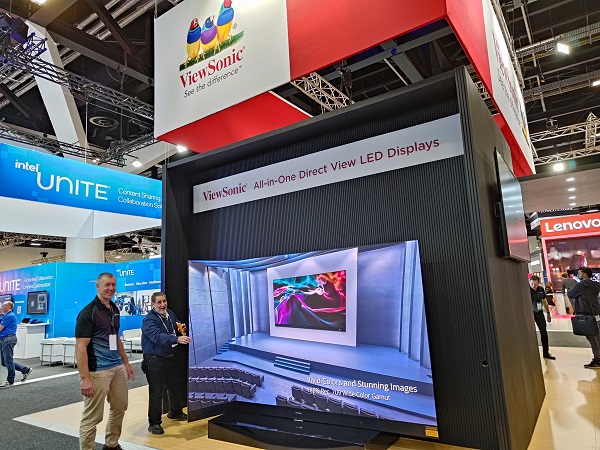 While there were many head-turning LED displays at Integrate, few caused as many double takes as ViewSonic's brand new, 'Pre-assembled Display Solution Kit.'
The snappily titled display's stand was unfortunately damaged by a forklift on set-up day but that didn't stop admirers generally wanting one whether they worked in AV or not.
It starts off as a large, wheeled flight case. After, removing the outer shell, you're left with a massive, 135" LED display with the sides folded in. You simply straighten them out and then activate the motorised, built-in stand at the back which can raise the display up to three metres.
The screen itself is only 35mm thick and is surrounded by a 'Frameless' 5mm bezel. The seamless display is backed by Harmon Kardon speakers and can be set-up by two people (one at a push) in minutes. We were told that price was TBC and also that a Gen 2 version is already being worked upon which will use a smaller flight case. We were told that it had already received significant interest with many commentators liking how it can be easily transferred from a boardroom to a training space, in an instant."
Multiple screens can be daisy-chained, and it even rotates to portrait mode. It uses a single power cable and height adjustment requires keying in the relevant numbers.
ViewSonic also showed off a new, short-throw LED projector (LS550WHE) for classrooms, with enhanced brightness capable of 3,000 lumens and a 1,280 x 800 resolution.
The company also set up several, different-themed collaborative spaces to show off its new (and existing) interactive whiteboards. Of particular note was the ViewBoard IFP62 UHD range which is available in sizes of 65", 75" and 86". It supports Intel UNITE, Microsoft Teams, Zoom, Cisco Webex among others.
Meanwhile the ViewBoard and myVewBoard Cast multi-platform software (with optional USB-C dongle) allows local and remote users to interact with it seamlessly.
ADVERTISEMENT

ADVERTISEMENT
ADVERTISEMENT

ADVERTISEMENT