ULA Group turns heads at Integrate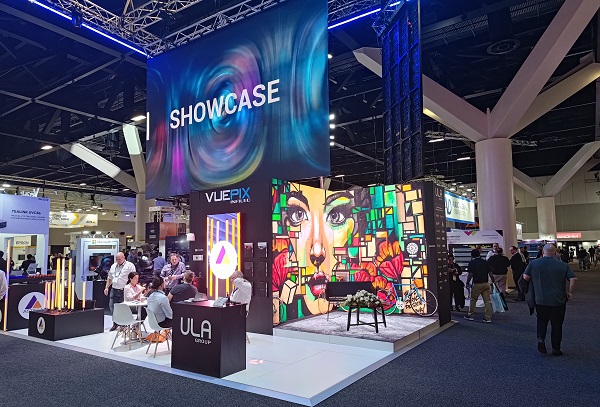 Few people didn't get stopped in their tracks by ULA's stand. If it wasn't from being temporarily blinded by one of the numerous lights on display, it absolutely was by the open-ended, meeting-room with LED floor and walls.
ULA Group marketing manager, Lenka Satankova, said of the occasion: "We love Integrate. It's a great show. We've been part of Integrate since its inception. We meet with people we know and engage with people we don't know yet."
Pascal Bonnet, account manager (professional lighting), added: "It's been the first opportunity for us to get back in amongst the customers on a big scale."
One wall was taken up by 'Digital wallpaper' from Vuepix Infiled. This offered very-high pixel pitch (that went down to 0.9mm), a native Full HD resolution and rapid installation capabilities. ULA told us that typical customers were: "TV studios, movie studios and influencers – anyone that gets on camera."
Their potential for replacing green screens (and the eradication of many hours of colour correction and other post-production activities), as demonstrated by recent Disney Star Wars series (like The Mandalorian), hadn't gone unnoticed by the industry.
We learned that the floor display was part of Vuepix's DF series which was tough enough to support the weight of a car. Motion sensors meant it could be interactive too. Meanwhile, a super-bright screen from the company's MV range, had to be dialled down for indoor use due to its 5,000-nit potential.
We discussed where pixel pitch was heading and were told that 0.5mm was currently available. While the price was prohibitively expensive, it was expected to start falling thanks to the continued advances in the technology. ULA said it had sold some LED screens into people's homes but: "LED still needs a bit more maturity before it becomes a domestic option."
ULA group also showed off numerous professional lighting products from Astera. These included new, eight-pixel, Helios LED lighting tubes which were half the height of the existing Titan tube but still offered matching, studio-grade colours. They were popular for set-lighting and outdoor displays where the low power-draw, long battery life, WiFi connectivity and control via phone app was proving popular.
Another popular product was the AX9 multi-purpose light. This could be wired or wireless, offered true-white light and was a cost effective, powerful, wireless solution for anything from spotlighting to basic up-lighting.
Astera's HydraPanel was also popular. The (battery-powered) versatile unit had six different light modifiers that could be combined in different ways for multiple applications. It also was compatible with multiple mounting options and was app controlled. It could be used for anything from direct studio lighting, through decorative installations to mood-driven backlighting.
Finally, ULA was also keen to show off its Elation KL PAR FC light which, was another popular, super-bright, cost-effective game changer. The blurb states it's a "compact, full-colour-spectrum LED fixture that provides high output, precise colour temperature control, full spectrum colour rendering and even wash coverage.
"Offering powerful colour intensity and a wide array of saturated and pastel colours from its efficient RGBMA engine, it is also optimised for the tunable white light requirements of Film and Television."
ADVERTISEMENT

ADVERTISEMENT
ADVERTISEMENT

ADVERTISEMENT