Tripleplay Cloud and CDN ushers in the next generation of IPTV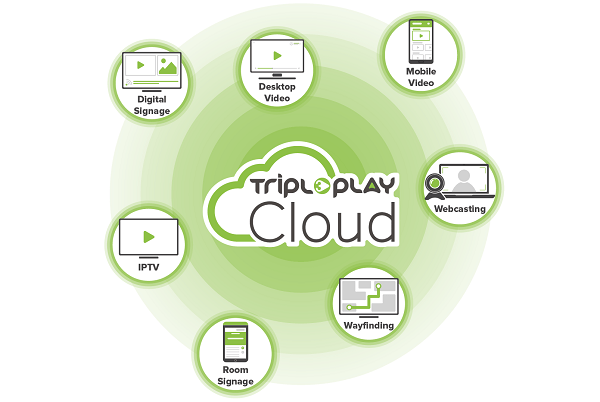 Tripleplay has launched the Tripleplay Cloud platform, delivering the digital engagement platform 'as a service' for the first time in the public cloud.
The Tripleplay Cloud is delivered across the content delivery network (CDN), a network optimised and designed for video streaming and digital signage deployments, allowing its users to choose their deployment type; cloud, hybrid or on-premise.
The platform will have all solutions associated with Tripleplay's traditional on-premise Digital Engagement Platform, including support for; TripleSign Cloud Digital Signage, Tripleplay Mobile and Desktop Video Streaming, newly released Tripleplay Webcasting, interactive IPTV Portal, Tripleplay Wayfinding and TripleTV IPTV as a hybrid solution.
Analytics and monitoring are also key components of Tripleplay Cloud, allowing administrators a centralised view of their entire deployment. The system also includes a seamless 'self-provisioning' feature, to allow simple deployment throughout the whole estate.
Tripleplay chief executive Steve Rickless says that this is the next logical step in the evolution of IPTV and video streaming platforms: "Tripleplay IPTV has always been optimised for an on-premise implementation, with broadcasting laws and regulations often dictating this necessity. But with Tripleplay Cloud, we have created a platform that can support current day and potential future requirements of businesses, who wish to leverage cloud-hosted services and minimize their set-up and maintenance costs.
"Through our hybrid solution we feel we have raised the bar. Digital Signage and streaming have both been commonly available as cloud solutions for a while, but IPTV hasn't, and when you add our capability to manage live encrypted IPTV, stream non-broadcast content and deliver a robust, professional digital signage network too we really have created something unique."