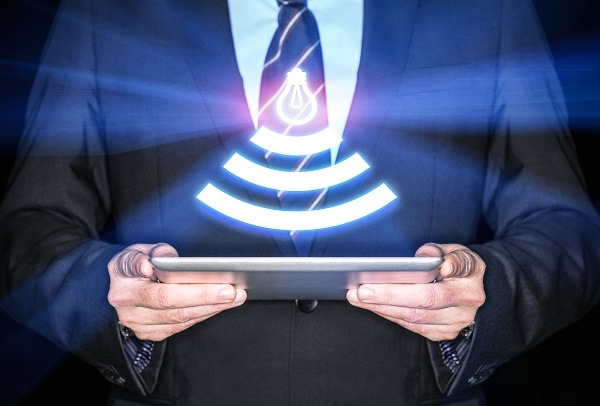 Connectivity is everywhere these days, and the methods by which it is delivered are constantly advancing. John O'Brien dug a little deeper into one such method, LiFi.
The rate of technological advance continues apace. It seems like every week we hear of a new 'game changing' advancement. My recent find is LiFi. Only it's not that new.
In 2011, German professor Harold Haas gave a TED talk that introduced a novel method for transmitting high speed data using visible light spectrums.
Shortened from Light Fidelity to the catchier LiFi (or Li-Fi), this technique involves using visible light communications (VLC) and LEDs. The LEDs are switched on and off at rates too fast for the human eye to detect, more than ten million times a second.
Haas went on to found the company, pureLiFi, to take this concept to market, bringing out its first system in 2014. Many other players have since joined the fray but, despite great promise, it has been slow to take off.
But first, some background:
Communicating with light is not entirely new. Back in 1810, Carl Friedrich Gauss invented the heliograph, simple but effective in its day. Go forward to the 1880s when Alexander Graham Bell transmitted speech over several hundred metres using modulated sunlight. This was done before speech over radio waves even happened. Obviously, that tech won out for the next long while.
A century or so later, IR remotes joined the lightspeed comms party. With simple hardware and limited commands to send, the one-way remotes are still in wide usage.
Optical wireless communications (OWC) is very cool concept but it's true potential hasn't yet been unlocked. LiFi might be the next step. With high data throughput (over 200 Gbit/s) and no cable in between, it is like fibre optics without the fibre. And it does it all through the LED lighting fixtures now ubiquitous across much of the world.
So, what about WiFi?
WiFi also doesn't use cables to transmit and receive high volumes of data. In this, the two techs are very similar. The major differentiator being the method employed. WiFi uses radio frequency to send data to and from an antenna, whereas LiFi does this via modulated light intensity.
They both use similar 802.11 protocols, but the difference is in available bandwidth. The frequencies that our radio transmissions use are both limited and increasingly congested. With 10,000 times more capacity in the visible light spectrum alone, the newest OWC offers great potential.
In comparison, WiFi is an inefficient power hog with a low energy conversion rate. When you multiply that by the gargantuan number of devices currently using WiFi, it adds up to a considerable amount on the worldwide power bill. Further, LiFi relies on line of sight, making indoor systems inherently secure from hacking, a common WiFi problem.
But it's not all roses – this strength is also a weakness. The Achilles heel of using light is light itself. During daylight hours, taking the LiFi outdoors incurs too much interruption from sunlight to work reliably. So, WiFi isn't going anywhere just yet.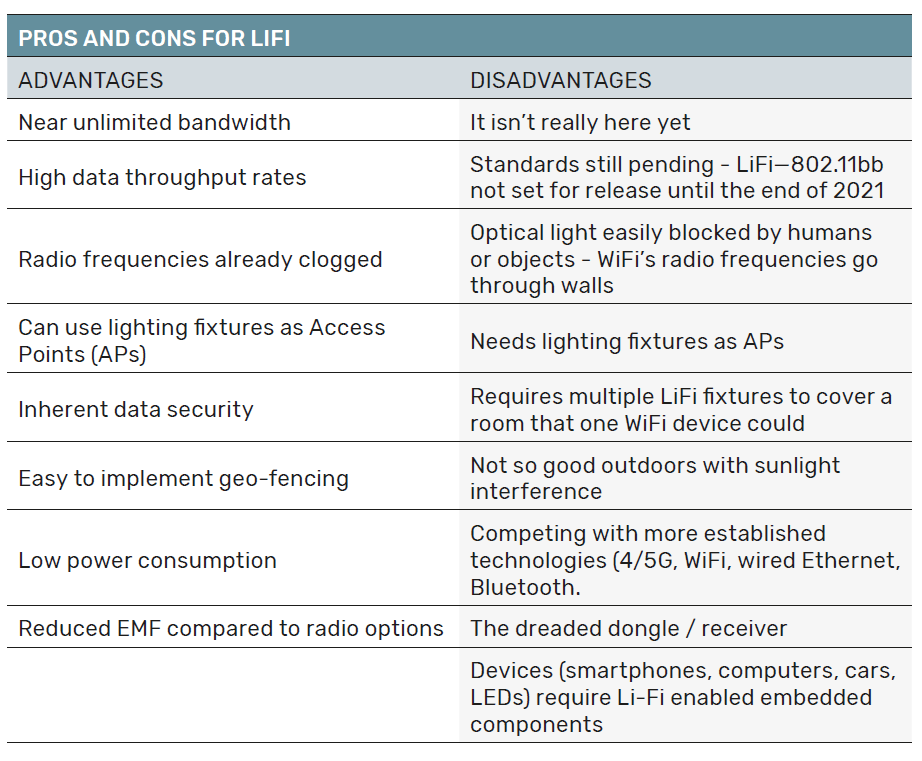 Potential LiFi applications
Now that we have a rough idea of what the technology is, here are some possible uses.
The insanely high data throughput offers great capacity for streaming increasingly high-definition content. Even at half the current theoretical maximum of 200+ Gbit/s, that still means a movie downloaded in seconds. The bottleneck moves to your backhaul or ISP.
With many sensitive and hideously expensive radio frequency medical devices, hospitals are a prime candidate for LiFi. It has been installed into several hospitals worldwide and the results are so far impressive. Already saturated with EMF radiation, if these venues can reduce EMF waves and interference, then all equipment, staff and patients will benefit.
Air transit is another sector sensitive to EMF disruptions. With LiFi through cabin and seat lighting for consumer interaction, delicate aircraft systems like avionics, comms and navigation can be isolated and kept safe. Even before takeoff or landing, LiFi confers significant benefits for travelers. Airport WiFi is notoriously congested and often dodgy (at least without a VPN). LiFi could alleviate some of this.
Likewise, a similar technology mix could be suitable in other public transit terminals or carriages. Some countries already have good signal on their trains. Some do not, especially in tunnels.
Anywhere where people congregate and communicate indoors is ripe for this kind of gear. Workplaces, museums, learning institutions and retail outlets all present opportunities for LiFi. Domestic installations could link internet access to geo zones, filtering or throttling areas like children's bedrooms.
One of the unrivalled applications comes underwater. Radio waves travel poorly in liquid, degrading rapidly, but light fares much better. Hydromea's LUMA X is a market ready module that claims 10 Mbit/s over 50 metres. I've read that multiple naval outfits are already looking deeply into this sort of thing and can see applications for research and fishery.
Also, in the military realm, the US Army has already signed up for some purpose-designed field LiFi systems (Kitefin) from pureLiFi. Current RF systems are highly detectable in the field and thus vulnerable. With LiFi and other free-space optics (FSO), they intend to keep comms with their soldiers and systems more secure. I doubt it will stop there and many nations are trying to keep ahead of the martial tech curve.
If it's so cool, why can't we use it yet?
Despite the technological promise, LiFi is taking its time to establish in the market. There are now some serious movers and shakers investing in this platform including (but not limited to): Signify, Broadcom, Honeywell, Samsung, Qualcomm, Sharp, Phillips and the originator pureLiFi. Substantial military involvement should push the tech further.
With such significant players backing it, there are now billions of dollars floating around this nascent industry, yet products are still niche. What is holding it back?
I see a few key reasons.
First, add-on transceivers are clunky – who wants a dongle hanging out of their device? Getting LiFi chips embedded in more devices will push it forward in the domestic and commercial markets. Until this happens, progress will be slow, but it is under way. This is also relevant to the LiFi-enabled LED lighting fixtures required.
Second, there are some well-established wireless technologies already widely prevalent across the world – WiFi (4/5G), Bluetooth, Zigbee and the ubiquitous IR are not going anywhere just yet. Whatever their shortcomings, they are all technically and commercially solid, making resistance to change an issue for newcomers.
Further, chip shortages are slowing all tech production and supply at the moment. Will commercial priorities dictate chips being allocated to tried and true products or emergent ones? Of this, I am not sure.
Finally, there is the inherent technical shortcoming of LiFi – light interference – that will not see it replace any or all these incumbents in many use-case scenarios.
Where will it win out?
Long term, what is most likely is a mix of all these technologies. Perhaps WiFi outdoors, Bluetooth for short distance hookups, Zigbee where the meshes already exist and LiFi eking into indoor wireless networking. The take up will likely occur gradually until OEM sensor integration into user devices and LED fixtures becomes more widespread.
Indoor networking is a great application for LiFi in the commercial and institutional sectors. Public transit terminals, retail outlets and large indoor spaces like lecture halls could benefit from its speed and low power consumption.
Conference and meeting rooms would incur the same benefit while adding a layer of corporate security. Even more guarded organisations, such as military and industrial research, will likely be looking closely. Airlines are a likely candidate. Healthcare and education too.
Smart cities, 4IR, IoT and other nascent technological utopian dreams could flourish with the speed and flexibility of LiFi. And even if you want to stay with the older techs, increasing radio bandwidth shortages will only accelerate adoption of OWC techs like this.
I'll admit that this development had passed me by until recently. But it's certainly one area that I'll be keeping a close eye on from now on. I might even put off purchasing those extra WiFi APs for the house and wait to use the lights instead.