The rise of the CEDIA Outreach Instructor program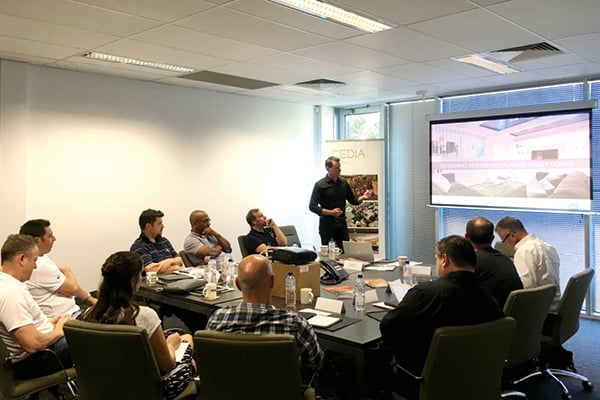 As demand for smart home technology rises, it's important for integrators to understand how to engage those in complementary industries. Adelle King explains how the CEDIA Outreach Instructor program gives members the tools to educate local design and build partners about the home technology field. 
Demand for smart home technology is on the rise and a growing number of developers are including home automation as part of the design process.
According to a survey by ServiceSeeking.com.au, one in four Australian houses are now considered 'smart homes' and developer Metricon claims "100%" of the company's Designer by Metricon customers have chosen to build smart technology into their homes since October 2017.
Consumer awareness of smart home devices is also growing, with 81% of respondents in the US saying they would be more willing to buy a home with smart technology, according to a joint study by CNET and Coldwell Banker.
It is therefore important that the home technology industry builds on this momentum and takes proactive steps towards gaining recognition for the technology, services, skills and expertise it can provide to industry partners. These include architects, builders, building designers and interior designers.
"The way people are interacting with technology is changing and as technology advances so too does the way in which we use it," says CEDIA director of technical content David Meyer.
"The aim of the CEDIA Outreach Instructor (COI) program is to talk about the technology available and give an overview of what's possible, what some of the terms mean and the ways in which technology can be integrated into a home to enhance people's lives."
The COI program has been around since 2006 but was recommenced in Australia in 2017, when CEDIA renewed its accreditation with the Australian Institute of Architects (AIA). It enables trained members to teach courses on a variety of topics, including controlling and isolating sound with design and construction, dedicated theatre design, lighting control, planning for residential electronic systems, shade and window treatments, security solutions and using technology systems to help home owners live a greener life.
The program is part of CEDIA's industry outreach efforts that aim to strengthen the collaboration between technology integrators and design and build professionals.
CEDIA members who are interested in becoming a COI are required to take and pass a day-long 'Train the Trainer' class. This session gives members the tools they need to deliver quality presentations and present relevant and timely education to industry partners within their geographic region.  Once a trainer is cleared as a COI they can offer face-to-face training as CEDIA experts, at no charge, to other trades.
"Some of these complementary trades are aware of what can be done but many aren't. Our goal is to show how technology can be integrated seamlessly into client's lives to improve the space," says David.
"We want architects, builders, interior designers and building designers to be aware of the ways in which they can increase their business through home technology. COIs are playing a role in the betterment of the industry, increasing awareness and showing there is a demand for CEDIA member's services."
COI's are required to follow strict guidelines, including meeting deadlines for registering upcoming classes, reporting participant attendance and maintaining minimum evaluation ratings. However, there is no continuing education required or a renewal fee.
The COI program has been tailored to the Australian market-place and the hour-long presentation, Designing Integrated Future-Ready Homes, is accredited with the AIA. It helps architects develop their understanding of what is required to design technologically advanced homes, looking at structured cabling, distributed AV, future-proofing the home, security, lighting control and energy management.
Not only does the program enable CEDIA members to deliver a consistent message that can help grow the industry, it also provides COIs with the chance to gain business networking contacts.
"Basically, we're introducing design and build professionals to the benefits of smart home technology through COIs, who benefit from the networking opportunity," says David.